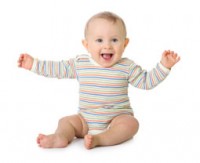 Every new mum requires some essential baby accessories for her little one – and we don't mean designers baby grows and diaper bags. So what  are some of the things you should you invest in to ensure that your baby gets the best in care and comfort while you gain the most from your baby products?
1. One of the wisest things to purchase upon the arrival of your new-born are good quality baby monitors. Should you have errands to run in the home whilst your baby is sleeping, a digital monitor will the give you the reassurance and comfort you need. The Tommee Tippee monitor, some of which have motion sensors and inbuilt night lights, will alert you if your baby stirs or begin to cry. An extensive reaching distance also means you can hear them from anywhere in your home. Monitors give peace of mind when your baby is in another room and allow you fewer sleepless nights knowing your baby is safe.
2. Carrying your baby in comfort and style with a baby carrier backpack is great for Dads who don't want to push hefty buggies. Deuter Kid deluxe baby carriers are super comfortable to wear and cosy enough for snoozing babies to travel in style. They allow maximum movement, taking up much less room than a pram and have several compartments to keep all your baby essentials such as bottles, nappies and blankets for a hassle free trip.
3. For more active parents, especially mums trying to shift that baby weight, a baby bike seat for children nine months and over is the perfect way to exercise and keep your tot in tow. Leisure Lakes' Hamax Baby Bike seats fix onto your bicycle with ease and a special indicator lets you know if the seat is safely attached and sturdy. A safety harness, child-proof seatbelt and foot-holders allow your child be comfortable and secure when going for a ride, but don't forget to buy them a helmet too before setting off on a journey.
&nsbp;