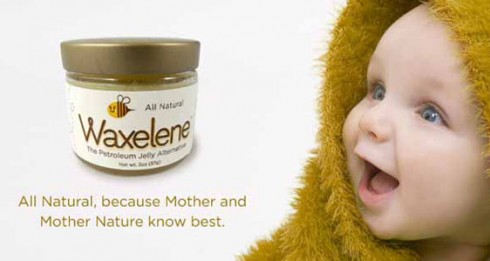 Say no to petroleum! Please help us spread the word! We want you and everyone you care about to know that there is an eco-friendly alternative to petroleum jelly…Waxelene! It has the same properties that everyone loves about petroleum jelly, but it's sustainable and organic. Everyone in the family can use it – for everything from treating dry skin and reducing diaper irritation to removing make-up.
Waxelene is the eco-friendly petroleum jelly alternative. It has the same protective, waterproofing, moisturizing and soothing properties that doctors love about petroleum jelly, but it's sustainable and organic. Waxelene's ingredients include natural beeswax and oils like vitamin E and rosemary which soak in and nurture skin cells. The patent-pending process eliminates the need to use any petroleum by-products, hydrogenated oils, or chemical processes and includes aeration giving Waxelene a smooth texture that won't clog pores.
And Waxelene is also going green! From using natural and organic ingredients, to packaging in recyclable glass jars (no plastic!), to implementing energy-efficient practices, Waxelene is striving to do its part to achieve a petroleum-free future.
Check out Waxelen on the web at- waxelene.com