Recently Baby Phat sent us two items to review for my daughter.
Can I just say that I am very excited about Baby Phat?? And my daughter was too. She LOVES Baby Phat clothing, and when she saw the jeans and t-shirt that we where sent her face just lit up!
My daughter LOVES the Lace Top we were sent. It's adorable and she's been wearing it everyday since we got it. Â She loves all the cute features like the lace, buttons, sparkles, and glam! It's a super-cute tee that is very well made.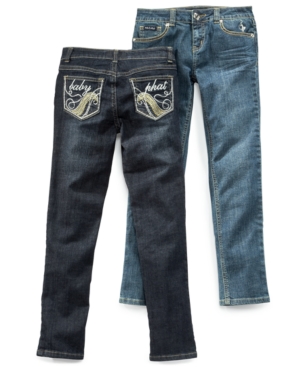 We where also sent a pair of jeans. And I am very impressed with them! They are very well made and look like they are made to last. My daughter loves them! They are also decorated with sequins and lace and are oh-so cute.
One thing however, the jeans do run big. Either that or my daughter is super skinny (well, she is anyway!), so the size 6 jeans where WAY to big on her without a  belt. So if your daughter is skinny, then go with a smaller size! 🙂
I am very impressed with Baby Phat, and highly recommend their clothing for any mom looking to buy some adorable clothing for herself or her little girl. 😉 You can find their products are babyphat.com or Macy's stores nationwide.