Safety is a HUGE concern for everyone. But all parents worry about their kids safety. Especially the safety of teenagers and pre-teens. However, a new technology is making sure that your kids stay safe.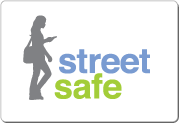 This technology is called StreetSafe and there is nothing like it on the market today. It turns your smart phones into mobile security systems. The the service provides help before a situation becomes an emergency.  It combines wireless networks with GPS technologies and a 24/7 state-of-the-art monitoring center that offers LIVE off-duty law enforcement officers and trained security advisors to talk to.  www.StreetSafe.com
The best and primary feature? The silent alarm. If your child (or you) needs help asap and you cannot communicate the location and situation to 911 then just slide the alarm to immediately dispatch 911 for help.< Another great feature is the personal safety escort. Imagine your teenage daughter walking home from a party late at night. If she see's someone acting suspicious then you can call StreetSafe and a trained security professional will stay on the phone, offering safety tips and helping to get her home safely. However, if the situation becomes dangerous they will call 911. Then they will give the local authorities vital GPS tracking data and personal information, so they can find, and help your daughter quickly. I don't know about you, but I am VERY impressed with technology. I think all kids should have this on their cell-phones!