Waxelene® is a natural, organic alternative to petroleum jelly. 
"Moisturize, protect, and soothe skin all in one!"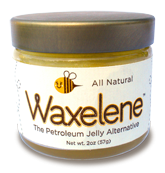 Suggested uses include:Â 
moisturizing skin
make-up removal (won't clog pores)
diaper rash prevention & treatment (creates a waterproof barrier)
cradle cap treatment
controlling split ends
aftershave
"Use for anything you would use petroleum jelly for and more!"
Ingredients: Organic Soybean Oil, 100% Natural Beeswax, Organic Rosemary Oil, 100% Natural Vitamin E oil
Waxelene® is produced using 100% wind power.  Also, by avoiding animal testing, chemicals, GMOs, parabens, or other artificial ingredients, Waxelene is both environmentally friendly and humane. Double win!
Our Review:
The product comes in a very sturdy glass jar with an easy to open metal lid. The Waxelene® itself has a deep buttery color and faintly musky scent. Upon first touch, the gel felt somewhat gritty. To my surprise, however, it spread on smoothly and easily.
I used Waxelene® as both a diaper rash cream, and a skin cream on my toddler. I applied it at night between bath and bed time to her diaper area, and a patch of dry skin on her leg. In the morning, both skin irritations were almost completely cleared up! I reapplied in the morning and both were completely cleared by bed time.
I will definitely be using this product further as a skin cream on myself and my daughter. However, due to the scent, I personally wouldn't use it as a lip balm or anywhere near my nose.
Fashionable Media Review Policy: the manufacturer or representing PR agency for the sole purpose of product testing provided the featured product for this review to me, at no cost. Opinions expressed are my own and are not influenced by monetary compensation.