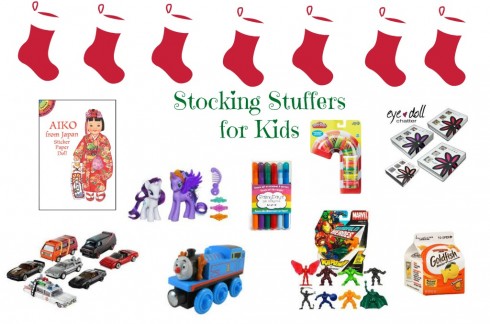 Stockings are a blast to stuff, but who has time to search Pinterest for ideas in-between trying to wrangle kids, drive through slush, and get all those gifts wrapped and food prepped. Here are a few last minute stocking stuffer ideas that we think are pretty awesome.
Snack items are probably the most looked forward to by some kids. Between the cookie packages, fruit pouches, and Goldfish crackers, your kids are going to have the best stockings yet.
Craft items are always loved by children young and old. Window Art Crayons, silly putty, play dough, Dover sticker paper dolls, water painting books, are just a few items that kids will love.
Small toys such as My Little Pony, Polly Pocket, Lego Mini figures, Marvel Mini figures, and Hot Wheel Cars all fit perfectly into stockings.
For the older kids, locker decorations, temporary tattoos, gum, lip gloss, iTunes gift cards, Eyedoll Chatter mineral makeup, and Piggy Paint nail polish are always a great idea.
What stocking stuffers are you doing this year?