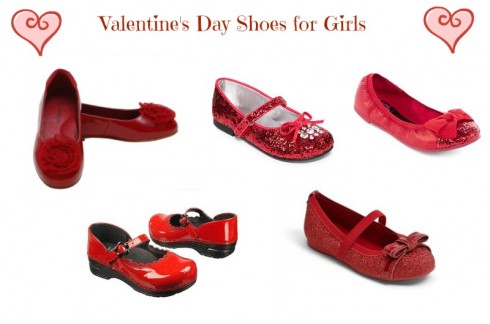 Valentine's Day is fast approaching. With just four days away from this special holiday, most of us moms are trying to figure out the last minute details for any school parties or lunches that our kids have coming up.
While it's not always possible to deck our princesses in their finest red dresses due to the weather, we can make sure they look cute on Valentine's Day with these festive red shoes!
L'Amour Girls Red Flower Slip On Dress Shoes  $44.99
Okie Dokie Glam Toddler Shoes $5.99
Dansko Kids Cherry Shoes $70.00
Starburst Girls Dress Flats $14.99
Stuart Weitzman Fiona Glitter Flats $67.95
All of these shoes are made by reputable brands, and two are even on clearance so you're getting a great deal for such adorable shoes. We love how sparkly and cute each pair is.
The best part? All of these shoes can double over as Christmas pretties as well. Which shoes will your little girl be wearing this Valentine's Day? The dainty L'Amour flower dress shoes, or the sparkly Stuart Weitzman flats?