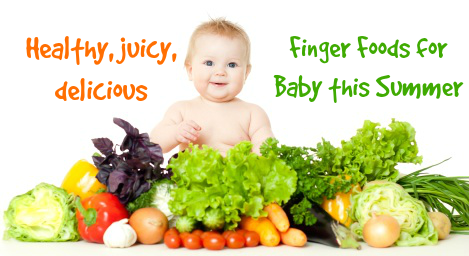 If your children are anything like mine were, then they eventually get sick of the same old finger snacks. Here are a few new, and wholesome ideas for your little one this summer!
Frozen Applesauce-Â Using a silicone heart shaped ice cube tray, fill with applesauce and freeze for a few hours. Pop one out at a time and give it to your baby to enjoy. This treat is perfect for teething babies, and equally perfect for the hot summer months.
Fried Sweet Potatoes- Peel and cut a sweet potato into cubes, brush with olive oil, and cook for ten-fifteen minutes until they're soft and golden.
Banana Slices-Â  Bananas sweet taste and fresh texture makes them a hit with all the little monkeys. Slice them up for an easy, fast treat when you're busy cooking dinner and need to keep your bambino occupied!
Avocado Slices-Â Avocado slices are the perfect treat for these hot summer months ahead of us. Full of healthy fats and nutrients that your growing baby needs, they're sure to be a hit with your little one!
Frozen Yogurt Drops- On a cookie sheet lined with parchment paper, drip small drops of YoBaby vanilla or banana yogurt, freeze for two-four hours until solid. You now have a delicious, melt in your mouth treat for your little one!
What finger foods does your baby love to eat? Let me know in the comments!