Every mom knows that buying snack pouches is equally good and bad. On the one hand, your kids will readily eat their fruits and veggies from a pouch. On the other hand, you're damaging the environment every time you throw those plastic pouches out.
Two moms who love snack pouches and love environment, came up with a solution. For moms that have the time to puree their own baby food, they designed a reusable snack pouch system that is perfect for babies and toddlers alike.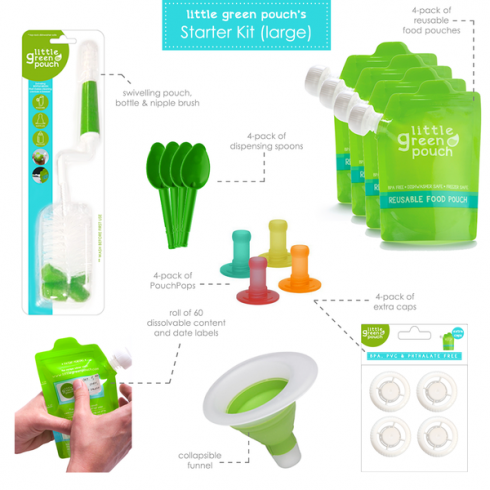 The refillable, dishwasher safe pouches come in different size sets with dispensing spoons, so you can choose which set best suits your needs. Green Pouch also sells an affordable starter kit that includes a funnel, spout extenders, pouch cleaning brush, pouches, and dispensing spoons for the price of $44.00.
On the recipe section of their website, they have a wide variety of healthy (and even paleo!) recipes for hungry kiddos. From cantaloupe smoothies to chicken, sweet potato, and kale puree, they have all sorts of yummy recipes to make!