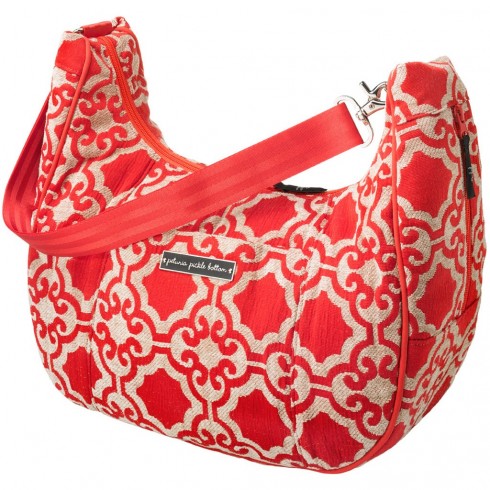 Petunia Picklebottom has long since been a favorite of The Fashionable Bambino. Their stylish diaper bags never fail to impress us, and their Touring Tote is no different.
The features themselves are almost as impressive as the bold print that first caught our eye! Check them out and don't tell me you aren't in love with all the options this bag gives you.
Well-designed interior includes 4 organizational pockets, 2 bottle or sippy cup pockets, 1 pacifier pocket
Exterior features front pocket with magnetic closure, 2 side zippered pockets for small accessories and 1 zippered back pocket with removable plush changing pad
PPB-monogrammed plastic wipes case
Custom-stamped premium hardware
Proudly PVC-Free, plush chenille interior.
Water resistant liner.
Versatile 3 carrying options: On shoulder, as cross-body, or on stroller with included Valet Stroller Clips.
This gorgeous tote is roomy enough for all your baby's needs, while still giving you a fashionable bag to tote around. While it does come in several colors, the red and white persimmon spice shade is perfect for this summer. This bold print is in ladies!
Petunia Picklebottom's diaper bags are always roomy and fashionable, giving mom's the option of carrying on cute diaper bags that aren't clunky and drab. Just because you're a mom and haul around diapers doesn't mean that you can't do it in style!
To purchase the Touring Tote, visit Petunia.com.