My almost 5 year old son, like lots of other little boys, thinks he is a superhero. He has been flying around the house with a cape on, saving the world, for at least 2 years now. His favorite superheros are Thor (because of the long hair), Captain America and Batman.
When I saw the Lego Kids DC Universe Super Heroes Batman Minifigure-Link Black Watch, I knew he would absolutely flip over it.
I was right. He was over the moon when it came in the mail! He immediately put it on and was so excited he just kept giggling to himself "Ooooh wow, a Batman WATCH!" It was pretty hilarious.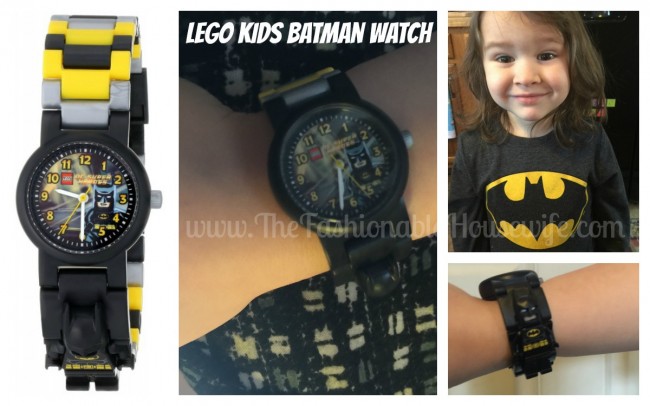 I love that it's adjustable, water resistant and best of all, it has a cute little Lego Batman figurine
My son says, "I love that it has Batman on it! You can take him off and you can turn the knob and fast forward time. I love that I can leave it on and get water on it and it keeps going even if you get water on it. Some electronics crash if you get them wet. And also what I like about it is that the yellow hands moves around and around and around and it will keep going forever and not stop."
So there you have it. First product review from my son!
There were tons of LEGO Watches watches to choose from on WatchCo.com. I think I will be getting my daughter either the Wyldstyle watch or Lego Friends watch for her birthday next month. I know she would love either one!
I received the item mentioned above in exchange for an honest review. All opinions are my own and I did not receive compensation for this post.