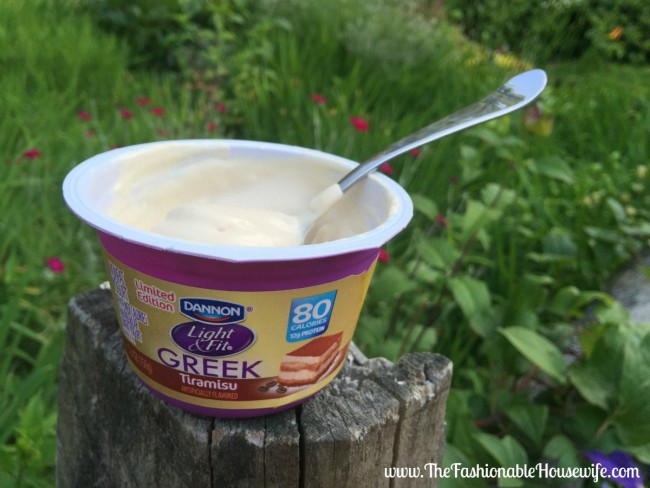 Looking for a sweet treat that won't shred your diet plans this summer? Don't worry, you don't have to suffer and eat cardboard. Dannon® Light & Fit® Tiramisu Flavored Greek nonfat yogurt is amazingly delicious and satisfying, has 12 grams or protein and contains just 80 tiny calories. You would never guess by tasting it!
Tiramisu Gelato is one probably of my favorite things on this earth, so of course I immediately fell in love with the flavor of this yogurt. Smooth, surprisingly creamy for "greek" (not at all dry) and a sinfully delicious Tiramisu flavor that is playfully accented with a hint of coffee. It's beyond yummy.
Dannon Light & Fit Greek Tiramisu yogurt provides your sweet tooth with the treat it demands without making you feel guilty! This is perfect for a midnight snack rather than reaching for a klondike bar or a pint of ice cream. It doesn't have to be a snack though! It's a great side item to a healthy breakfast or lunch as well.
If you want something sweet and delicious that works with your diet plans, you should give this yogurt a try. I hear it comes in other delicious flavors too that I'm dying to try out.
Honestly, if you didn't know that it was nonfat, you certainly would never guess it by tasting it. Where it is short on calories, it definitely isn't short on taste.
Look for Dannon Light & Fit Greek Yogurt the next time you are in the grocery store. Let me know what you think!
Connect with Dannon:
Dannon Website: http://www.dannon.com
Dannon Facebook Page: https://www.facebook.com/dannon
Dannon Twitter Page: @Dannon
Dannon Pinterest Page: https://www.pinterest.com/dannonyogurt/
Dannon Light & Fit Website: http://www.lightandfit.com
Dannon Light & Fit Facebook: https://www.facebook.com/lightandfit
Dannon Light & Fit YouTube Page: https://www.youtube.com/user/lightandfit
Dannon Instagram Page: https://instagram.com/dannon/