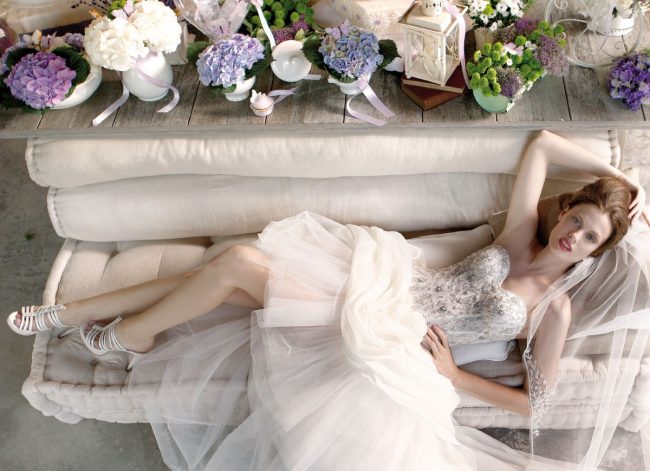 There are various factors that need to be considered when you want to pick the right wedding dress. These include your personal preference, taste, style, wedding theme, venue and overall budget. Every bride wants a unique dress that matches their expectations. The process of finding the perfect gown for your special day begins with visualizing the type of dress you want.
Style and Shape
There are several dress shapes and silhouettes to choose from according to your body type, figure, and personal taste. The most effective way to determine which shape or design works best for you will be by trying on different dresses.
Body types are broadly categorized as apple, pear, rectangle and hourglass.
The apple body type is flattered by dresses that feature an A-line silhouette and empire waistline that creates definition. The pear body type will also benefit from an A-line silhouette and the classic ball gown shape.
Enhance the curves of a rectangle body type with an empire waist and mermaid design. The proportions of the hourglass body can be showcased with a natural waistline that emphasizes this type of figure.
Location and Theme
Along with selecting a dress that will flatter your body, there are other aspects that may influence your decision. This will direct you towards choosing the fabric, embellishments, accents and length of your dress. Determine the location of your wedding as well as the time during which the ceremony will occur.
The theme and venue of your wedding should be a reflection of the kind of event you are planning for and how you should dress. Church weddings may involve conventional wedding attire while destination weddings give you the opportunity to experiment with various fashionable options.
Research and Inspiration
Go through catalogs and bridal publications to find out what your options are. Look at the dresses and designs that are available and figure out how you ca incorporate the things you like into your wedding dress. Being aware of different types of dresses before you go shopping will make it much easier for you to find or create your ideal gown. Visit http://www.mensweddingbands.com/ for more information.
Visit Different Bridal Shops
Create a list of different stores that you plan to visit. You can carry out a search on the internet to identify the bridal shops that are located in your area. Focus on finding shops that stock dresses that your budget can comfortably accommodate. Note down the stores, their locations and contact details.
You can avoid being overwhelmed by asking the assistants at the bridal shops to give you advice and make recommendations. They are typically knowledgeable about the large selections of dresses at their shops and can help you find gowns that suit your wedding plans and personal style.
Quick Tips
White is the conventional choice for wedding dresses but you can choose the color of your gown according to your preference.
Off-white, pink, silver and gold are among the other popular options that brides
Wedding gowns are usually altered to ensure that the fit is perfect. This is why it is important to begin looking for your dress as soon as possible to provide enough time for adjustments.