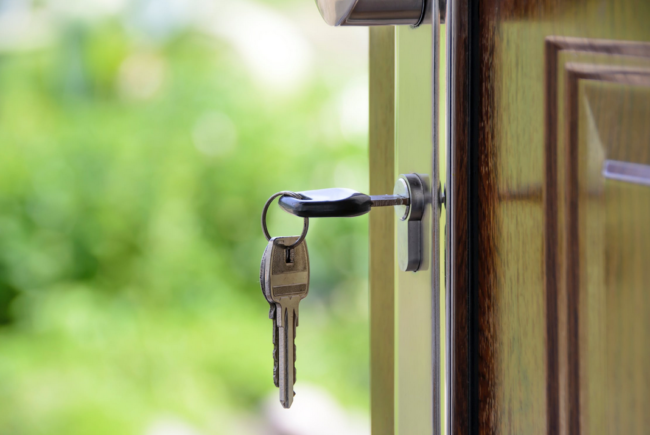 If you worry about safety in your home, it may be time to find ways to increase your home's security. There are many ways to can help your home become more secure that will take minimal investment. Your home should be the place where you feel safe, secure, calm, and relaxed. The four ideas below are good ideas for security upgrades that will immediately improve safety in the home.

Upgraded Doors
First and foremost, every single door on your house should have a deadbolt (not simply a lock, but a true deadbolt). Doors should be a heavy, solid wood. You should try to shy away from doors that are simply attractive and have large windows. Any windows on the door should be high up and small. You should also double-check the thickness of the glass. If your door hasn't been replaced in a long time, or you live in an older home, you will want to check that they are secure and tightly fit the door frame as well. A door with a peephole may also be a wise investment. It will allow you to see who is at your front door before deciding to open it.

Upgrade Windows
Every single window in your house should have a modern lock that is locked when you are not at home or sleeping. Additionally, when you are installing the lock, you can pour a few drops of liquefied solder into the screws as a further deterrent from truly professional burglars. If you are truly worried about safety, you can add glass break detectors and/or window sensors to your windows, especially the ground-level ones. You can even upgrade your windows to thicker, security glass. This will be even more secure and prevent anyone from being able to break a window to get in when you aren't home.

Motion-Activated Cameras
One of the cornerstones of smart home technology is motion-active cameras. Installing these in your home gives you the power to see the movement of any person near your home even when you are away. These will not only make your home safer, but they will also give you peace of mind when you are traveling and will allow you to summon the police with just the touch of your smartphone. Simply seeing there are cameras outside of your home can even deter intruders as well. They will be less likely to attempt to break in knowing they will be caught on film and identified.

Get a Furry Security Guard
This option may not be feasible for everyone, but a dog is actually one of the best security systems you can get in your home. Dogs were originally bred for two reasons: to help hunt and to protect. That protective instinct in dogs lives on, giving the dog a reason to bark at the mailman even though he comes every day. Dogs will naturally bark at any noise or person around the house they perceive as a potential threat to their home, which is your home.

These are a few of the very simple ways you can protect your home. However, if you are truly worried about your safety and the safety of your family, it is wise to invest in more serious safety measures rather than take a risk. For example, you can purchase ar-15 rifles online or purchase a routine handgun. While no one wants their house to be robbed, you must remember that the safety of you and your family is always the truly most important thing.