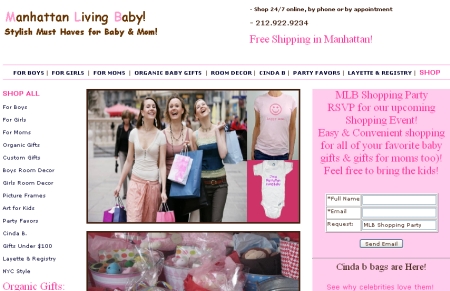 We are pleased to announce the arrival of Manhattan Living Baby! At MLB they are all about providing the convenience of Stylish Must Haves, Great Gifts, Personal Shopping and Interior Decorating Services for the busy Baby and Mom. It's just what you've been looking for!
They feature:
• 24/7 online shopping at www.ManhattanLivingBaby.com
• By Appointment Shopping in Murray Hill and Upper East Side
• Custom Gift Arrangements for Baby, New Mom, Birthdays etc.
• Free Manhattan Delivery – home, office, hospital
• Organic and PVC Free Collection
• Celebrity Loved Must Haves
• Decorating and Accessorizing Services for Children's Rooms
• Hosted Shopping Parties and Events
www.ManhattanLivingBaby.com