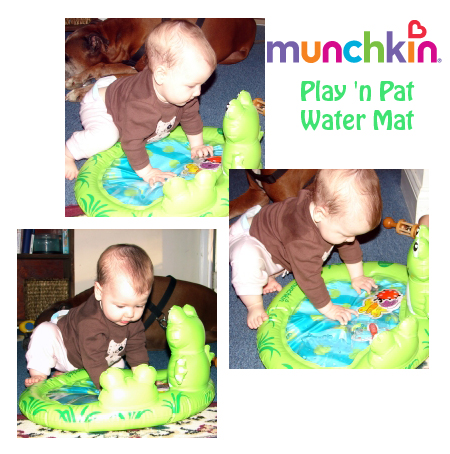 The Fashionable Bambino loves her Play 'n Pat Water Mat from Munchkin! It's quite entertaining for her busy little hands. It's like bath time, only dryer! Sometimes I put her bath toys on it and she loves that too.
The Munchkin site says, "Whooshing sounds and squishy sensations make our Frog water play mat a big hit. Large floating characters swim around when your child pushes the mat. Bright colors and patterns keep baby stimulated and the mat even teaches a lesson in cause and effect. Inflatable bumpers cushion your little one's arms and wrists as they play on the floor or high chair. It's a frog mat that will have you jumping for joy!"
We think that it's great for babies that can sit up by themselves, but aren't expert crawlers or creepers yet. Is also good entertainment in the high chair too! We love the Play 'n Pat Water Mat and think it would make a great baby shower gift!
Click here to find where to buy it >>