THE TWINKLE IN ONE GRANDMA'S EYE
INSPIRES BOOK SERIES NANA STAR

YOUNG READERS CAN DISCOVER NANA'S
OLD-FASHIONED VALUES
VIA ENCHANTING BOOKS, CD, DOLL & WEBSITE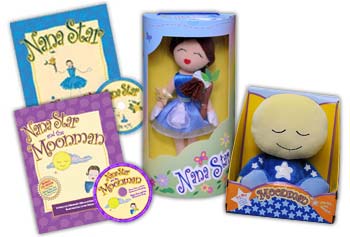 Fairfax, VA (June 16, 2008) – Stories passed one from generation to generation are treasured by a few lucky souls. In Virginia, two granddaughters decided to bring their Nana's charming story character, Nana Star, to life with a picture book series lovingly illustrated, written and published by three generations.
Grandmother Elizabeth Owens, matriarch of the family, created the character Nana Star out of a great love for her little grandson, Vance, with a desire to give him sense of home wherever he was. Today, the whole family hopes to extend that same love and feelings of belonging to children everywhere, in dedication to Vance, who now dances among the stars.
"We developed our grandmother's vision of Nana Star into a sweet, very simple, very edifying picture book series," explained Elizabeth Sills, co-founder of the ee (pronounced double e) publishing and production company, the laugh-friendly company®. "The book has a more old-fashioned feel in order to promote traditional values such as kindness, generosity and compassion." Adds her sister and business partner, Elena Patrice, fondly, "At the same time we wanted to remind children, as our grandmother reminded Vance, of how special and loved they are, no matter what. We hope that the stories cultivate young imaginations and inspire character all at the same time!"
Each Nana Star book includes an accompanying audio CD with the storybook and a sing-along song. To make the book a little more interactive, the authors have included a spelling mistake in each book and encourage readers to find it and send them a postcard with the correction. Children are then eligible to receive an 8×10 photo of the Nana Star costumed character and become an honorary member of the Nana Star Little Twinkles Club. The Club is expanded on its website, www.NanaStar.com, where language arts activities for emerging readers are offered.
Currently, young readers can enjoy two hardback books, Nana Star and second in a series, Nana Star and the Moonman. The books' vintage-inspired illustrations have been drawn lovingly by Elena's and Elizabeth's mother (daughter of Nana) Linda Saker. Each story features engaging characters and old-fashioned values that make Nana Star a grand new classic for children. The adventure begins on an ordinary day when something extraordinary happens to a little girl in a blue princess dress with a twinkle in her eye and a heart full of love to share. She finds a tiny star in a pile of leaves and promises to bring him home – high up in the heavens.
Granddaughters Elizabeth and Elena knew that they wanted to make a difference in the world. Before their first book went to press, they created the Nana Star Foundation. The foundation is dedicated to raising funds for terminally ill children and heightening awareness of the problems facing children attending inner-city schools. The small company also donates hundreds of books to such causes as Toys for Tots and First Book.
The reviews from readers, sellers and parenting panels for Nana Star have been overwhelming, topped by a 2007 iParenting Media Award for its all-encompassing website which hosts the Little Twinkles Club.
Nana Star is a charming story about doing a good deed because it is the right thing to do. …A delightful and upbeat picture book especially for young girls.
–Midwest Book Review
It's refreshing to find a book of this caliber with a story about helping others. The story behind the story impressed me. …Nana Star is a beautiful picture book that you and your children will cherish for years to come.
–Debra Gaynor, Reader Views
The response we have received from the doll and book has been overwhelming and wonderful! …Nana Star is destined to become a true classic!
–Alibaba.com
Meet Nana Star
Lucky parents and children in the Washington DC area have been able to meet Nana Star when she visits schools, hospitals and libraries to the joy of Little Twinkles everywhere. Nana Star (ee's own Elizabeth Sills) wears her blue princess dress and conducts storytime, singing, a language arts activity and if requested, a hug! Because community outreach is part of ee publishing & production's corporate citizenship, Nana Star appearances are gratis. A donation to The Nana Star Foundation in lieu of an appearance fee is gratefully accepted. Visit their website, www.NanaStar.com, for details on booking a D.C. area appearance with Nana Star.
Shop Nana Star
The following items are currently in stock and available by calling 1-877-MY-NANASTAR or at amazon.com. For online ordering at the Nana Star website, click here.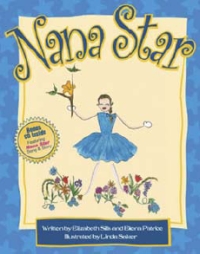 Nana Star
First in a series, this book introduces Nana Star and the lost baby star she stumbles upon, making an ordinary day extraordinary.
Book comes with bonus audio CD that includes The Nana Star Song performed by Nashville singer/songwriter Tricia Walker.
Price: $15.95
Buy It: NanaStar.com or Amazon.com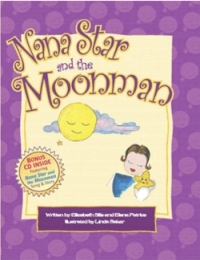 Nana Star & the Moonman
Second in a series, a comforting message about friendship and faith shines through this book for young readers who may not like the dark or are feeling lonely.
The enclosed bonus audio CD includes The Moonman Song perform
Price: $15.95
Buy It: NanaStar.com or Amazon.com
All boxed up for gift giving, a combination of hardcover book, and a soft Nana Star doll or Moonman plush. A 10% discount when you buy th
Nana Star Plushies Moonman and Nana Star, available now.
Now available are the plushies!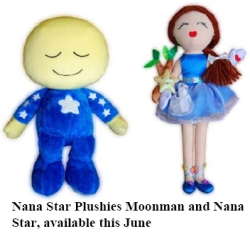 Moonman Lovey, a soft character doll whose head glows like the light of the moon and plays music
Price: $19.99
Buy It: NanaStar.com
Nana Star, a plush character doll carrying Baby Star on a branch, just like in the story
Price: $21.99
Buy It: NanaStar.com
A third plushie, Blue Wolf, a plush, stuffed animal that softly howls when his foot is pressed, is also expected later this summer.
To learn more about Nana Star, go to www.NanaStar.com.
Plus, you can use code is FASHIONABLE10 for 10% off through 8/31, on either doll that comes with its book. That means you get 10% off the already-discounted combination price! That coupon code is exclusive to only our readers though!!!
---

The Fashionable Bambino loves Nana Star! She carries her doll around everywhere and is in love with the story. She even likes to sit and look at the pictures all by herself. I think the stories are wholesome and hold great values. We highly recommend Nana Star!