When in search of the "perfect" handbag, women automatically think "functional & style." Chouette Sac has gone beyond perfection and straight to "dreamy" with their high-fashion, high-quality bag that performs 17 transformations for ultimate utility. Whether looking for a tote, mid-sized, hobo, backpack, messenger, belted, evening, clutch, wristlet or dancing pouch, one bag can be converted to serve the function while maintaining a fashionable appearance. The pattern and fabric combinations are diverse with subtle metallics, plaid, tropical, velvet, etc.
While the average single purse can prove quite expensive, Chouette Sac's versatile 17 purses in 1 retails for $395.00 and up and includes additional accessories.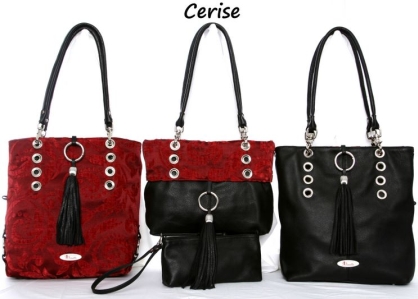 I found the bag to be quite heavy, which for me made it a no go. Being a mom, I have so many things to take with me when I go out that if my bag is already heavy to begin with, I can't even lift the darn thing after I put everything in it!
Besides that, the bag is beautiful. Very versatile, high quality, and stylish. Do I think it's worth nearly $400 just because it's 17 bags in 1? No, probably not. Being someone that gets her purses at Walmart or TJ Maxx, the Chouette seems extravagant. I'd probably tell you all to run out and buy one tomorrow if it were more like $100…
All in all, I like the bag, but I probably wouldn't buy one. It may be just what you've been looking for though! They certainly have many stylish and fashionable fabrics to choose from.