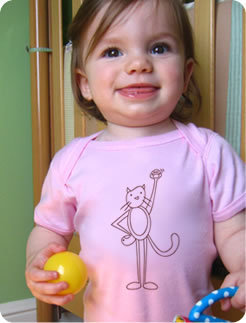 cat power! Or, in this case, kitten power! Empower the cute lil' kiddo in your life to stand up strong & be proud of who they are! Meow!
This is such a cute little onesie and would make an awesome present. This high quality onesie comes in pink and yellow and is available in several sizes. Hurry before they are all sold out!
And if you want to look really smart, get the matching boat neck tee for Mommy!
Price: $22
Where: willotoons.com