The Fashionable Bambino just turned 2 years old on July 27th! She's getting to be such a big girl, but we still like to use sippy cups. Not only are they easier for her to use, but there are less spills for me to clean up!
I don't use just any sippy cups in my house though. I threw out all my cheap plastic ones a long time ago and replaced them all with safe sippy cups that are BPA free or stainless steel. I've used so many in the past year or so, that I've really been able to narrow down my favorites and have listed them below for your convenience.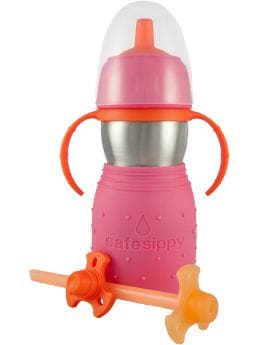 Kid Basix Safe Sippy 2 Cup
breaks away from the all-plastic sippy cup designs of the past. From the clean, non-leaching stainless steel cup to the unique safety features to the plastics free of Bisphenol A and other harmful chemicals, The Safe Sippyâ"¢ cup was created to accomplish one simple goal: Clean In, Clean Out.
The Safe Sippyâ"¢ 2 stainless steel drink cup was created in response to the growing body of emerging scientific evidence about the dangers of toxic chemicals used to make many plastics. Stainless steel was chosen because it is clean, stable and durable. Because stainless steel is stable and inert, it does not interact with the foods and fluids it comes into contact with.
This is like the Rolls Royce of all sippy cups. With 2 different spouts, this cup will grow with your child from about 1 year old to 7 or 8 years old. It's easy to clean, easy to use and put back together, and surprisingly affordable.
Price: $10.99 – $14.95
Where: JustKidsStore.com and Gap.com
---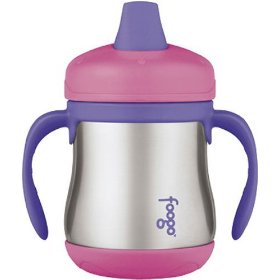 Foogo products are the ultimate in safety, designed with completely BPA-free materials and insulated to ensure freshness. Freshness and safety go hand in hand. If not kept at the right temperature, foods and beverages can spoil, causing potentially dangerous bacteria to form. If you are like every other parent, you are tired of your child's beverage getting warm and then being wasted. Now Foogo, by Thermos, has your answer.
The Foogo by Thermos Leak-Proof Sippy Cup
has double wall vacuum insulation for maximum cold temperature retention. It keeps your child's drink cold for up to 6 hours! I can't tell you how many times we've misplaced a sippy cup right after filling it up with milk, only to find it 6 hours later curdled and nasty.
I also like that this one has a spill-proof valve that prevents messes and the soft spout is easy and comfortable to sip from. It comes clean in a breeze with the dishwasher, but it's not as easy to wash by hand. I recommend having an old toothbrush handy to scrub the nozzle with.
The other nice thing about this one is the kid-proof design. It has an unbreakable stainless steel interior and exterior that withstands daily wear and tear. Just be sure to duck if your kid after throws this one at you… it's pretty heavy, especially if you drop it on your toe or something!!
Price: $10.00 – $14.99
Where: Wal Mart, Target, Babies R Us, and online at Amazon.com
---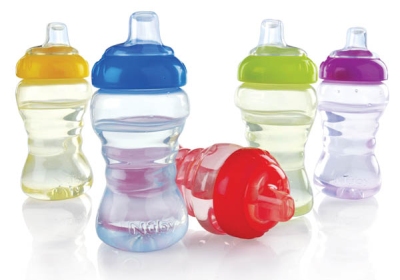 If you're looking for something cheap and uncomplicated, I recommend the Nuby BPA-Free 14 oz Easy Grip No Spill Cups
The Nûby Easy Grip Cup feature the No-Spill easy to use, easy to clean soft silicone spout that prevents spills and reduces leaks. The unique 1 piece valve promotes natural healthy drinking because it needs very little suction, allowing your childs palate and teeth to grow naturally. The easy grip shape is perfect for little hands to hold and toddlers on the go.
This is definitely the easiest cup to clean if you don't have a dishwasher. They are also very inexpensive so you can afford to have a dozen of them. I always try to have 1 with water and 1 with either milk or juice available for my toddler at all times. They are lightweight and replacement spouts are easy to come by.
Where: Babies R Us, DiapersEtc.com and Amazon.com