Congrats to Cathy for winning this giveaway!
---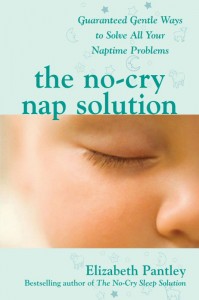 The Fashionable Bambino has teamed up with famed author Elizabeth Pantley to giveaway a copy of her new book, The No-Cry Nap Solution: Guaranteed Gentle Ways to Solve All Your Naptime Problems
!!
Elizabeth Pantley's books for parents are as close to a user's manual as there is. The "No-Cry" books offer remarkably clear and practical advice. This latest book in the series addresses an issue we have all faced and many struggled with: helping our children to nap.
Does your child:
* nap only in your arms, a sling, a swing, or the car?
* require elaborate rituals before sleeping?
* get fussy, act cranky, or have tantrums due to lack of sleep?
* take very short naps–or none at all?
Naps are important to a child's mood, well-being, and development. The No-Cry Nap Solution offers you a proven formula to allow your baby, toddler, or preschooler to get daily restorative rest. You'll learn gentle, loving, tear-free techniques, developed by world-renowned parenting expert Elizabeth Pantley and tested by hundreds of families around the world, guaranteed to help you:
* Convince any child to nap every day
* Effortlessly settle your child for naptime in his or her own bed
* Turn short, fitful naps into long, peaceful ones
* Establish a nap schedule that works for you and your child
* Easily adapt nap routines to your child's developing needs
* Confidently deal with sudden changes, nap strikes, and travel
One lucky reader of The Fashionable Bambino will receive an AUTOGRAPHED copy of The No-Cry Nap Solution
---
Wanna Win?
Mandatory Entry:
1. Leave a comment with your name, valid email address, and tell me which one of Elizabeth Pantley's books you need the most!
Extra Optional Entries: (Leave 1 comment for each extra entry.)
2. Follow @FashionableBaby on Twitter (include your Twitter name in comment!)
3. Tweet about this contest 1 entry per tweet, up to 4x daily. Leave 1 comment for each tweet with link to tweet. (click here to tweet automatically or copy & paste the following:)

Enter to win Elizabeth Pantley's new book The No-Cry Nap Solution from @fashionablebaby http://bit.ly/Rw71z Please RT!

4. Join the No-Cry Sleep Group on Facebook
5. Subscribe To Our RSS Feed
(Note: if you're already subscribed to our RSS or following on Twitter, leave a comment and tell us.)
If you have trouble leaving a comment and our Spam catcher is giving you trouble, please email me and let me know!
Details
Contest runs from August 17th till August 30th. Last chance to enter is August 30th at 11:59pm ET. A winner will be contacted on or before August 31st, 2009 and asked for full name, along with their mailing address. If no response is given within 24 hours, a different winner will be chosen. Must be 18 or older to enter and a resident of the USA.
---
---
Elizabeth Pantley is also holding her own contest on her website, so you have another chance to win! FIVE people will each win their choice of ANY one of the No-Cry Solution books – autographed!
The No-Cry Nap Solution *NEW*
The No-Cry Sleep Solution (for babies)
The No-Cry Sleep Solution for Toddlers & Preschoolers
The No-Cry Discipline Solution
The No-Cry Potty Training Solution
HOW TO ENTER:
Choose a line or two, or a complete except from any of Pantley's books.
(Lots of excerpts on the website – take what you want!)
Quote it on your blog, website, newsletter, or Facebook page.
~ Include the title and author, PLEASE. ~
Send the link to: elizabeth@pantley.com
That's all ~ you're entered!
Winners to be chosen at random on October 15, 2009.