Motherwear offers nursing apparel that is suitable for the working mother or a stay-at-home mom. Their current sale has 20 nursing tops that offer style, fashion, comfort, plus a way to nurse discreetly. Each top offers its own unique nursing opening and comes in a variety of colors and styles.
Let me just share a couple of selections with you: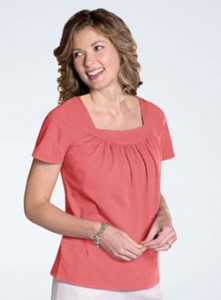 In the picture above is Motherwear's Simple Solutions Tee in the color Papaya. The neck is square, with an almost empire look to it in the design with its pleats. It is short sleeved and Motherwear calls it "this new cool Raglan Tee that is casual and comfy." It comes in six different colors: Amethyst, Black, Goldenrod, Irish Rose, Peridot, and Papaya. The fabric it is made out of is cotton/spadex. The nursing openings are front only. This casual tee is regularly $32.00 and now on sale for just $19.00.
The next item is the Lucinda Top, which comes in just two colors: Eggplant and Mallard. Both of these are rich, warm colors that make me think of Fall weather. It comes in only long sleeves, is made of cotton/spandex and only has the front nursing panel. It is an elegant looking tee that would look great with pants or a skirt.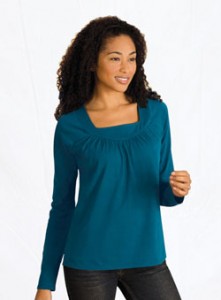 Remember the sale ends tonight. Motherwear is also offering free shipping on orders over $125, so be sure to include the code FL97.