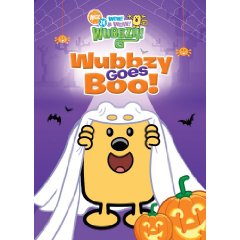 Wow! Wow! Wubbzy!: Wubbzy Goes Boo
was released on Tuesday!
I meant to tell you about it before now, but I've been so busy blogging about Shoe Trends For Fall 2009 over on The Fashionable Housewife, that I forgot all about it!!
My daughter (The Fashionable Bambino) is a huge Wubbzy fan, as you may already know. She can sing the whole Wow Wow Wubbzy theme song, bring her little Ty Beanie Babies Wubbzy
to bed with her, and she even has the Kooky Carry-Along Coloring Kit
, stickers, and almost every Wubbzy DVD.
The newest DVD we've added to our collection is Wow! Wow! Wubbzy!: Wubbzy Goes Boo
was released Sept 8th. It retails for $16.98 and you can find it in stores like Wal Mart, Target, etc or you can purchase it online on Amazon.com for only $12.99 and get free super saving shipping if you can manage to add a few more things to your cart like Wow! Wow! Wubbzy!: Wubbzy's Big Movie
or pre-order a copy of Wubb Idol
staring Beyonce!
If you have the Nick Jr. / Noggin station on your TV, you may have seen a couple of the episodes on Wubbzy Goes Boo
. The first episode on the DVD is Wubbzy's Magical Mess Up, where he "babysits" Moo Moo the Magicians magic shop, and ends up making a disaster. Another one I have seen a million times before was Tea For Three, when Widget tries to make the perfect tea party for her, Wubbzy and Walden.
One of my daughter's favorite episodes is also on the DVD, which is Monster Madness. She just turned 2 in July and can talk quite well now, but 3 months ago, it was a little difficult to understand her. I remember when one day she started saying something that sounded like "Ooooh scary monsters!!" and I kept thinking to myself that she couldn't possibly be saying scary monsters because she didn't even know what scary meant, nor has she ever seen a monster. Well… I was wrong!! It was this Wubbzy episode of Monster Madness where Wubbzy gets scarred of monsters in the dark. They end up teaching kids at the end of the episode that monsters aren't real and there is nothing to be afraid if, but I think my little girl missed that part the first couple times she saw it! lol
The three new-to-me episodes on here were The Last Leaf, The Ghost of Wuzzleburg, and March of The Pumpkins. All exciting and entertaining episodes that teach skills like honesty, fairness and cooperation. There are even some bonus features on the DVD that include a music video, songs, and a sneak peek.
Wubbzy Goes Boo
is the perfect addition to your DVD collection if you are a fan of Wubbzy! Great Fall episodes that teach the same values you've come to love about the show.
Get Wubbzy Goes Boo on Amazon.com
and let me know what you think!