Congratulations to Anita and Ethel for winning a copy of Wubbzy Goes Boo! DVD!!!
Random.org chose comments #43 and #22
---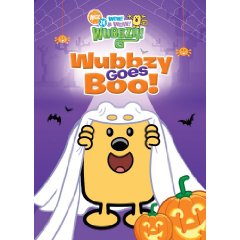 We're giving away a copy of Wow! Wow! Wubbzy!: Wubbzy Goes Boo
DVD to two lucky readers of The Fashionable Bambino, just in time for Halloween!!
Wow! Wow! Everybody! Grab your kookiest costume and head on down to Wuzzleburg for some ghoulish fun in the all-new 70 minute Halloween DVD Wow! Wow! Wubbzy!: Wubbzy Goes Boo
. Watch as Wubbzy, Widget and Walden clean up a crazy mess with Moo Moo's magic wand, learn how not to be afraid of monsters, use the Monster Masher 300, pick the perfect pumpkin, and create the spookiest Halloween costume of all. Featuring amazing glitter o-card packaging and available for around $16.00, Wubbzy Goes Boo! includes singing, dancing, trick or treating and kickity-kick ball, plus plenty of positive values like creativity, patience and responsibility. It's all here in the Emmy winning Nick Jr. hit series that's so much fun it's scary!
Here is the trailer for the new DVD:

We are HUGE fans of Wubbzy in our house! My 2 year old would watch Wubbzy all day long if I let her. He's such a cute little fellow, it's hard not to fall in love with him. I know your toddler / preschooler is going to love Wubbzy too and that's why The Fashionable Bambino partnered with Sayles & Winnikoff Communications to offer 2 lucky readers a copy of the new DVD!
---
Giveaway Entry *Required Entry
Leave a comment and tell us what your child's favorite part of Halloween is or what they'll be dressing up as this year if you take them trick or treating.
Optional Extra Entries
Required entry must be completed before extra entries qualify. Leave an additional comment for the value of each extra entry.
1 Entry: Follow @FashionableBaby on Twitter and Tweet about this contest 1 entry per tweet, up to 4x daily (1 hour apart please!). Leave 1 comment for each tweet with the link to tweet. (click here to tweet automatically or copy & paste the following:)
Wow! Wow! Wubbzy!: Wubbzy Goes Boo DVD Giveaway from @fashionablebaby Two winners! http://bit.ly/wubbzyboo (Please RT!!)
1 Entry: Subscribe To Our RSS Feed
5 Entries: Enter our Fashionable Gals For A Cure Giveaway
10 Entries: Blog about this giveaway including links to Wubbzy.com and this giveaway.
(Note: You must leave 1 comment per entry. Extra entries will not be counted unless you leave 1 comment for each one. If you're already subscribed to our RSS or following on Twitter, leave a comment and tell us. It still counts as an extra entry!)
If you have trouble leaving a comment and our Spam catcher is giving you trouble, please email me and let me know!
Giveaway Rules
Contest runs from October 9th – 23rd. Last chance to enter is Oct 23rd at 11:59pm ET. A winner will be contacted on or before Oct 24th, 2009 and asked for full name, along with their mailing address. If no response is given within 48 hours, a different winner will be chosen, so please be sure to check your email. Must be 18 or older to enter. Contest open to USA only.