We received a recent email with this information:
Christmas is just around the corner, and Halloween is feeling the pinch;  at least according to a recent survey done by the National Retail Federation. NRF is saying the typical American shopper will spend about $10 less this Halloween compared to last year. The same survey indicates that more than 16 percent of the respondents will trim costs by making costumes rather than purchasing them. Just because the economy is sluggish and disposable income is down doesn't mean those participating in Halloween can't celebrate what has become one of the most popular holidays for adults and children alike. Ask Coupon Sherpa has posted an article 50 Cheap & Easy Halloween Costumes for Adults & Children.

Here is a sampling of their costume ideas: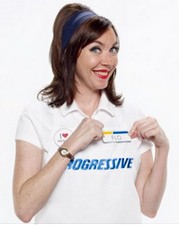 Progressive Insurance's Flo: All you need is a white shirt, white apron, name tag and a headband and you're set to cut insurance deals for fellow party goers.
Job Seeker: Whether you're unemployed or gainfully employed, this costume is a cinch. Dress in your favorite suit, grab a suitcase and resume and you're set to go. Those truly unemployed might want to stock the briefcase with real resumes, just in case that perfect job prospect shows up at the party.
Backwards Man: This simple concept was popular in the 1980s  and is due for a revival. Simply put your clothes on backwards, pad your front to give yourself some "back" and voila, you're ready.
Pile of Laundry: The perfect costume for college students! Simply pin clothes onto an old outfit or, for a more complex costume, cut the bottom out of an old laundry basket, fill it with clothes and wear it around your waist. A hat made from a washed-out Clorox bottle adds a jaunty touch. Don't forget to toss in a few used fabric-softener sheets.
Work of Art: This couldn't be easier: Hang a large picture frame around your neck. If you want to make it complicated, consider dressing up as a specific work of art, such as the Mona Lisa or a Van Gogh self-portrait.
Web site: Glasses wearers can turn themselves into a Web site by draping fake spider webs all over those eyepieces.
The article even includes a recipe for fake blood and instructions to create fake wounds. That isn't for the faint in heart though! To find out what the other 44 ideas are visit Ask Coupon Sherpa here.