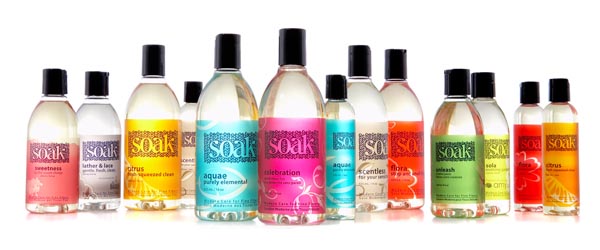 Originally created as a care product for knits, Soak is a premium no-rinse wash for all delicates, from lingerie and sweaters to baby clothes, quilts, stuffed animals…even your dog!
Soak is available in four scents (Aquae, Citrus, Flora and Celebration) as well as in Scentless; three size options make it easy to use while traveling or at home. And if you don't "do" handwashing, Soak can be used in your washing machine's delicate cycle! The non-toxic, biodegradable formulation uses no dyes or harsh ingredients (it's phosphate-free), just skin-grade ingredients so gentle you could bathe in it.
If you're looking to upgrade the way you wash your delicates, Soak is available at a 15% discount through the end of the year by using code SOAK09 on their website. Happy Soaking!