What are your Mom Must-Haves this Christmas season? I know I have a few things on my list, but know I won't be getting them all at once! Do you ever treat yourself to pricey items, special treats or a piece of luxurious clothing? I would love to hear what some of your favorites are!
Some of the following ideas were submitted to us and I thought I'd share them with you:
1.) Wishpot – To ensure everyone gets the gifts they really want (whether it's Holiday gifts or baby registry gifts), how about sharing your new wish list/registry site Wishpot? The free of charge service is quite genius as it lets users:
* Create wish lists & registries by adding items found from not just one but from any site on the world wide web. As any smart shopper would agree, why limit yourself to one store when you can have them all?
* Save $$! Users can set price comparisons and sale alerts to keep their wishes within budget (http://www.wishpot.com/help/how-to-price-alerts.aspx)
* Get what they really want! Choose to save or share lists with family and friends – nothing wrong with dropping a helpful hint!
* Consult Wishpot's shopping and gift experts or even other users for helpful Holiday gift ideas & tips (http://www.wishpot.com/channel/gift/ideas.aspx).
* Consult Wishpot's baby experts as well as other registered parents-to-be for ideas & tips (http://www.wishpot.com/registry/baby/).
For Technological Moms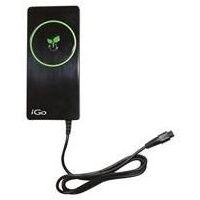 2.) iGo Green Laptop Charger – Charge almost any laptop from this power saving iGo travel charger. The iGo includes two cables – one to charge at home, and one that works in the car or on an airplane. Unlike traditional laptop chargers (which can be known as energy vampires) the iGo Greenâ"¢ Technology automatically reduces wasted standby power, so there is no need to unplug the charger. Another nice feature is a USB port on the base unit so you can charge your other devices like a cellphone, digital camera or mp3 player. I found this online, so Bluesuite Mom gets credit for this idea.
3.) A New Laptop is on my personal list! I'd like to have one with lots of memory, a 17″ screen and a webcam. Please let me know if any of you have a favorite brand or recommendation because we've only had one laptop and it crashed a month or two ago. 🙁 Boo hoo….We bought it used and it lasted us 2-3 years. It was a Dell Inspirion.
Intimate Apparel
4.) Brulee – Go ahead, indulge. Because every Mom should! Below, select looks for Holiday.
Beautiful lingerie and lounge wear comprised of luxurious and comfortable pieces that are sexy, versatile and travel brilliantly. From bi-coastal designer Kristian Giambi, each piece is handcrafted in New York City utilizing the finest silk, cotton and jersey materials, featuring delicate details and intricate workmanship using hand cast gold and crystal hardware. Brulee targets powerful, sophisticated women with a feminine yet sexy edge. The line's camisoles, bodysuits, rompers, bralettes, boy shorts, lounge pants, leggings, nightshirts and more are luxurious and uncomplicated, and anything but sweet. Slipping into one of these pieces promises to leave you feeling sexy and confident.
Available in sizes XS-XL, the collection encompasses a rich color palette of deep plums and blacks as well as soft ivories, offset by hand cast gold and crystal hardware. Pieces will retail from $36 to $178, available late Fall in select boutiques throughout the U.S. as well as through www.brulee.net.
5.) Affinitas Intimates – For the Mom who wants to get lacy & racy! Get red-hot this holiday season with these stylish yet affordable looks from lingerie brand Affinitas. Below, select looks for Holiday. Visit www.affinitasintimates.com to view the full collection. Retailing at numerous e-retailers and boutiques throughout the U.S. at a price range of $8 – $58 (Check Affinitas Store Locator here).
6.) N-Fini – For the Mom who wants to stay looking svelte over the Holiday season! Shapewear solutions for upper, lower and full body. Retailing from $55 – $100 in numerous specialty stores, boutiques and online retailers throughout the United States.
Say goodbye to your grandmother's girdle, suffocating Spandex, and old-fashioned corset bras! From the thigh, buttocks and waist to the torso, chest and upper arm, N-fini™ has a shapewear solution for every problem area of the body, providing for the utmost lift, shape, support and comfort for its wearer. The line offers ultra-flattering styles, ranging from strapless, tank, scoop neck, and cami styles to shaper bras, bustiers, torso trimmers and long-sleeve tops. For the lower half of the body, thigh shorts, capris and leggings come available in both regular and hi-waisted styles. Innovative features such as Non-Invasive Micro-Fiber Elastic Trim, Diamond Support Panels, Anti-Curl Comfort Hem with Serpentine Gel, Breathable Upper-Arm Plush Adjustable Straps, Vented Upper-Arm Trim Shapers, 4-Way Stretch Comfort Gussets and more can be found throughout the collection. Made with LYCRA® freshFX® fabric for dry, comfortable shaping, each style comes available in S/M, M/L and L/2XL to fit every body type, in white, black and nude to be worn unnoticed under any garment. Practicing quality production techniques, N-fini™ is proud to manufacture all products in the USA, in-house at the brand's Tampa Bay, Florida plant.
1, 4-6 were provided by RichPR. Thanks!
Personal Care Products
7.) Personal Care Products that leave us feeling fresh and special! Mine include Body Shop Soap and a perfume my husband adores, which is has been discontinued, so I am in need of new recommendations as I search for a new fragrance!
A new favorite is goat's milk soap. We tried some from Laurel Fork Farm and it was truly wonderful. It left our skin feeling soft and silky and their lotion kept our hands that way even after several hand washings! Simply amazing and like no other hand lotion I have used.
These may or may not apply to your individual tastes so please add your own favorites and perhaps they will become ours too!