I have been to alerted to a hair styling product just for babies, children and anyone with sensitive skin. Le Baby hair gel is hypoallergenic, contains no parabens, no harsh chemicals, no sulfates, and is not tested on animals. Le Baby, Inc. says their product tames the frizzies and the fly-aways, thickens baby-fine hair, moisturizes, and softly holds curls. This is the product to keep your child's hairstyles in place and never leaves hair stiff or sticky. I hope to get my hands on some sooner or later, but if any of you try Le Baby hair gel before I get to, please drop us a line ok?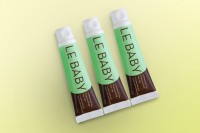 "Today's fashionable parents think of their children as extensions of themselves," says Tami Dimmerman, mother of two and creator of Le Baby Inc., a hypoallergenic hair gel designed especially for babies, kids and anyone with sensitive skin. "Today's modern kids need to look just as fashionable and stylish as their cool moms and dads. Hairstyles have become a way of self-expression for kids and remind others that they have their own personalities."
Meet the Creator – Tami Dimmerman
Tami searched for a product that would tame and style her daughter Chloe's fly-away hair without aggravating her eczema or irritating her sensitive skin. She hoped to find a safe, gentle and effective gel without harsh chemicals or potentially harmful ingredients. Unwilling to settle for what was in the marketplace, Tami spent months experimenting with different all-natural formulas until, through animal-free testing, she found the perfect combination and solution.
Tami continues, "The children's haircare market has become a big industry. Where once a baby care routine involved a simple bath and powdering, parents and caretakers are now looking for products that pamper babies both physically and mentally. I wanted to create a worry-free product that helped moms and dads create fun hairstyles; and keep their kids groomed while feeling good about it. "