It is fascinating to see what the celebrity kids are wearing, isn't it? Even if you don't aspire to buy these big name items with the huge price tag, you've gotta admit that it's fun to look. Here are some cute designer duds that were seen on Kobe and Vanessa Bryant's two children from Peach and Plum. This one celeb baby item you won't want to miss!
Monnalisa Girls Fancy Black Coat Price: $260.00 – $285.00 on sale for $208.00 – $228.00
You will love this warm and elegant Monnalisa Girls BLACK Jacket. Similar style Monnalisa jacket last year was one of our top sellers and completely sold out. Beautiful ties with crystals adorned hearts on each sleeve and embroidered "M" logo on the left sleeve add a special touch. Detachable hood. Washable. Runs true to size. This coat is BLACK (nero).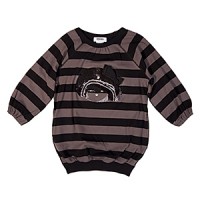 Sonia Rykiel Enfant Girls Dress with Sequins Price: $197.00 – $222.00 on sale for $137.90 – $155.40
This dress is featured in the Fall/Winter 09/10 Sonia Rykiel Enfant advertisement campaign. This Sonia Rykiel Enfant Girls Dress with Sequins is so cute and chic. Sequins applique of a girl with a bow in her hair is adorable. Famous SR crystals on the back. Wear it with tights for a very cool look. Washable. Runs big.
Vanessa Bryant
We all know celebrity kids have amazing style, thanks to their ever so posh parents! However, with celebrities' busy schedules and the amount of time pro-athletes spend traveling, it's hard to take the time to get to all their favorite children's clothing stores. That's why Vanessa Bryant, Kobe 's stunning wife, makes sure their little ones stay bundled up and ready for the winter weather by purchasing their clothes at www.peachandplum.com!
Sticking exclusively to European high fashion, the Bryant kids will be wearing Monnalisa and Sonia Rykiel infant styles. Vanessa purchased two of the above items which are available exclusively at www.peachandplum.com