Are you looking for something different and stylish for your kids? Luv My Lolly is a new company featuring cute t-shirts and onesies. The owners are moms correction, aunties 🙂 and know how hard it is to find contemporary items for kids.
Luv My Lolly says,
Lolly specializes in stylish AMERICAN-MADE onesies and t's for children ages 0-6 years.  Most of our designs and garments are UNISEX. We offer 100% sustainable Organic cotton options as well. All our products are printed with safe lead free inks. We like to call it healthy apparel.

Our goal is to bring stylish, original artwork to you. Each design is hand drawn and we often feature local guest artists with limited edition designs and prints. These artists will conceptualize, design and create their garment completely and we will have a complete bio with links to their website/works and blogs. We want to help propel their talents and provide them a blank canvas to create with. We donate a percentage of our featured artist shirts to www.americansforthearts.org because supporting the arts is an important cause to us!

 
Luv My Lolly offers unique gift wrapping that includes shrink wrapping in the form of a huge lollipop!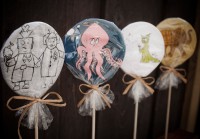 This service includes a handwritten note on a special Lolly card. They only ship to the USA and Canada, so be sure to make note of that.
For more information about the owners, artist behind the designs and additional product info, please visit www.LuvMyLolly.com