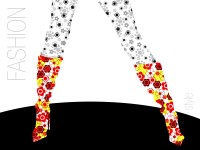 "Afingo.com – the fashion industry's ultimate destination and one stop shop for all things style. From the streets to the runway, Afingo is the place to connect with cutting-edge designers, retailers, fashionistas, and inthebiz suppliers."
"Afingo.com, a fashion-centric online forum that merges a marketplace with social networking."
Afingo is a new website designed to combine fashion and social networking. Just launched last week, this is really cutting edge and potentially amazing for fashionistas! I've only read the press release and glanced at Afingo.com, but it sounds interesting enough to share with all of you here at The Fashionable Bambino. I did sign up and set up a profile, which is all very easy to do. Then it is just fun to take a look around and see what's happening in the fashion world. Afingo.com seems to be filling a gap in some ways, but with so many social media networks popping up everywhere, it will take some time to see how well it really does in the long run.
Afingo.com is not just for consumers, but designers, inthebiz suppliers and retailers.
If you are interested in joining the creative community, visit Afingo.com to take a tour and sign up.

Below is an excerpt from a press release we received:
The very nature of fashion is its ability to reflect the political and social issues of society. One of the most transformational innovations in our modern history is the Internet and its profound effect on the way we work, live, communicate and share information. So it's no surprise that the rise of social media has created dramatic changes in the way people interact with the digital world. According to a recent study by Hill & Knowlton, '27% of Generation Y says they are influenced by an online community or blog,' making it evident that social media is undoubtedly a way of the future. In today's social media environment, industries are being defined by consumers themselves trough opinions, reviews, ratings and blogs. Until recently, the fashion industry has been fashionably late to the social media party.

'Traditionally, fashion has always been perceived as a personal experience for the consumer,' says Liza Deyrmenjian, CEO & Co-founder of Afingo.com, a fashion-centric online forum that merges a marketplace with social networking. 'The idea of going social is a bit unnerving and unfamiliar to the industry because many do not know how to translate these personal experiences online. Afingo.com is the first-ever Web-based roundtable where all four building blocks of the fashion world – designers, retailers, in the biz professionals and consumers – meet. We have designed a virtual cocktail party for anyone who loves fashion.'

Do You Afingo?

Launching in January 2010, Afingo.com will provide industry professionals and fashion groupies the ultimate one-stop destination to connect with all members of the fashion population. For consumers, Afingo.com will give exclusive access to learn about the latest fashion trends directly from their favorite designers. Designers and retailers can share behind-the-scenes industry information with customers in exchange for immediate consumer reviews and opinions.

'Although fashion-centered Web sites exist, there is no venue where all components of the fashion community can converge,' says Liza. 'Afingo.com forges a relationship between the four main movers and shakers of the industry by creating an interactive dialogue.'

The multi-functional fashion portal allows consumers to offer input directly to designers and retailers about their collections, provides designers with necessary information to give consumers exactly what they want, assists retailers by selling products directly to consumers and helps 'in the biz' suppliers to develop a thriving business.

Social Networking: The Next 'It' in Fashion

The fashion industry has completely evolved from a time when designers and retailers relied on fashion shows and glossy magazines to generate "buzz" about their brand. From high-end department stores to local boutiques, the industry is utilizing social media to build brand awareness with consumers. In this new tech-chic environment, there's more competition for consumer attention as traditional forms of advertising have become less influential.

According to Forrester Research Inc., 'companies are shifting their marketing dollars away from traditional media and toward interactive media. The category will grow to $55 billion and represent 21% of all marketing spending in 2014, the company predicted in a July report. This year, marketers will spend $716 million on social media marketing, with the bulk of their online advertising budgets going toward search, display advertising and email.' Ushering the fashion industry's trend, Afingo.com effectively merges the ideas of designers, retailers, 'in the biz' suppliers and consumers via social media to attain well rounded and optimal results.

How will consumers benefit from Afingo.com?

Afingo.com allows each consumer to establish a profile page where they can connect with their favorite brands to rate new designs and directly purchase goods. This provides consumers with the opportunity to offer direct feedback to designers, and also helps them explore and discover new talent.

Afingo.com will run various contents and polls for users to win prizes such as shopping sprees and makeovers by celebrity stylists. Additionally, consumers are often given the opportunity to vote on specific things such as designers' color swatches or retail stores' inventory for an upcoming collection – giving them a voice into the fashion world for the first time."

Top Fashion Image: Salvatore Vuono / FreeDigitalPhotos.net