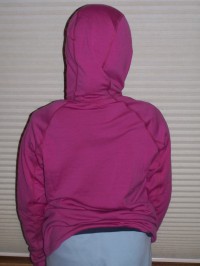 We were privileged to receive a size large (12) Deep Rose colored Kid's Hooded Indie from Ibex to review. It will be returned, but my girls enjoyed trying it on and being my review helpers. When I opened the package, I was really surprised at how lightweight the hoodie is and how thin the material felt for being made of wool. Because of its lightweight, it truly is easier to layer without the bulk of heavy clothing. (18.5 micron wool)
I had my 9-year-old and almost 11-year-old daughters try on the hoodie to see how comfortable it was, how the fabric felt to them, if it kept them warm or not. They each wore a t-shirt beneath the hoodie. Both of them said they liked the hoodie and that it was very nice. They said that it was really warm and comfortable. As a matter of fact, my younger daughter didn't want to keep it on as long as I wanted her to because she was too warm. So Ibex is right in that it does retain heat.
We didn't have a clue as to what the holes in the sleeves were for until we visited Ibexwear.com and saw their model posing with their thumbs through them. My older daughter commented, "That's what those holes are for and why the sleeves were so long on me. They're to help keep my hands warmer."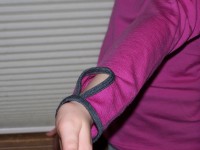 The hoodie does seem to pick up link easily. My girls didn't have the hoodie on very long and I wouldn't let them do much in them since it doesn't belong to us, but it did pick up lint and we don't have any pets!
One thing I almost missed and isn't that important, just cute. There is a little Ibex applique on right hand sleeve as seen in this photo.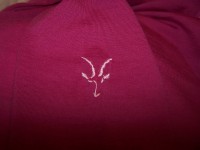 Unfortunately, I cannot tell you how it washes up, but it is suppose to be machine washable. Amazing for a wool product. Wool is known to be durable, but again, I cannot tell you how the hoodie holds up over time since this product will be returned. The hoodie is made in the USA of New Zealand Merino. Just reading the tags makes me want to buy them!
The Ibex Limited Edition Kid's Line is available for $72 – $95 at Ibexwear.com.