Popular Mechanics and Old Navy have a Kids Can Do Great Things Design Contest coming up that you all might be interested in for your children. Just imagine being able to win a shopping spree and have your child's art work featured on the cover of Popular Mechanics! Sounds like fun to me!
Here's the news we received Popular Mechanics:
Popular Mechanics, the brand that has long inspired adults with its hands-on explanations of the modern world, will now also be accessible to the next generation of curious minds. The magazine has partnered with Old Navy to develop a line of limited-edition T-shirts for infants, toddlers and kids. Featuring four designs inspired by vintage, transportation-themed Popular Mechanics cover art, the collection will be available in Old Navy stores nationwide and at oldnavy.com in mid-January. T-shirts will be priced between $10.50-$12.50 each.
Popular Mechanics and Old Navy are also inviting kids up to the age of 12 to share their own vision of the future of transportation with the Kids Can Do Great Things Design Contest. Throughout its 100-plus year history, Popular Mechanics has captured the excitement and promise of new transportation technology in its cover images. The Kids Can Do Great Things Design Contest invites kids to create an original design for a Popular Mechanics cover with this same theme. Entry forms will be available in stores nationwide starting February 5. The winner will receive a $500 shopping spree at Old Navy and have his or her design featured in an upcoming issue of Popular Mechanics. The magazine will also donate $500 on the winner's behalf towards FIRST Robotics, a non-profit organization that furthers science education.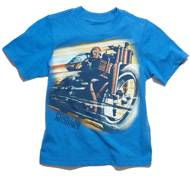 "With this new collection of T-shirts at Old Navy, parents can now share the brand they already know and love with their kids in a fun, inspiring way," said Glen Ellen Brown, vice president, Hearst Brand Development. "Popular Mechanics has always been about understanding the modern world and envisioning the future. Our partnership with Old Navy perfectly captures that spirit and allows us to introduce it to a new generation of future inventors, engineers and enthusiasts."
From its inception, Popular Mechanics has always encouraged curious minds and creative innovation. The Kids Can Do Great Things Design Contest broadens this mission through a creative experience that will reach a whole new generation of Popular Mechanics loyalists. A gallery of Popular Mechanics covers from the past 100 years is available at popularmechanics.com/marketing/covers.