A story came through and I was hesitant to share it, but decided that it is interesting enough to include in this week's posts. Dr. Siegal, a doctor for more than 34 years, has created what is called the Cookie Diet. Yes, you read that right. He formulated amino acids and needed something to package them in and decided on a cookie. Good Morning America's segment (see the YouTube link below) reported that they sent the cookies to the lab to see if they contained what the package said they contained and they did.
One lady has been on the Cookie Diet for two years and is maintaining her weight on this low calorie diet of only 1000 calories per day. Some are concerned about the nutritional needs and health of individuals using this approach long term, but Dr. Siegal claims that there is nothing clinically wrong with a low calorie diet. Time will tell, I guess. As with any diet, each of us needs to do our own research, including consulting with a professional such as our physician or a dietician before beginning such a rigorous low calorie diet like the Cookie Diet.
Nevertheless, this past week, the Cookie Diet has garnered some attention with an odd kind of promotion….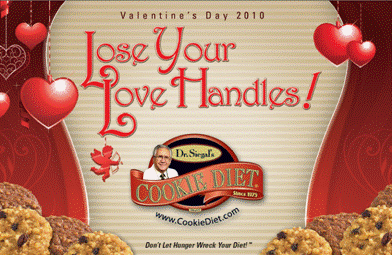 From the center of Times Square to the tents at Bryant Park's Fashion Week, Dr. Siegal's Cookie Diet (Snooki's favorite diet) was passed out to encourage people to "Lose Their Love Handles." Lots of hungry models gladly took the cookies. But there was a catch – Models and civilians alike had had to flash their flab (see below) to receive free cookies and $50-off-a-month supply of cookies when they visit CookieDiet.com.
Additional Resources:
http://www.cookiediet.com/
ABC's Good Morning America Segment: http://www.youtube.com/watch?v=u9fuI9yzx4o
NBC's Segment: http://today.msnbc.msn.com/id/26184891/vp/34416230#34416230
http://www.wfaa.com/news/local/64574632.html