Most of you have probably read that I am expecting and with a new pregnancy most mothers think about their baby supplies, equipment and accessories – what do I have, what don't I have etc. Well, I'm no different. I find when I go shopping that I look at baby things more than I did, before I was in and out of the baby section after I picked up disposable diapers and wipes. Then today, I had a friend mention diaper bags and decided I would do a quick search to see what I could come up with for fashionable diaper bags and share those findings with all of you.
This is the first diaper bag to catch my eye. This pretty pink JP Lizzy diaper bag is a great choice because it comes in a boy (blue/brown) and girl color (pink/brown), as well as a neutral color (brown). See below for more photos…
JP Lizzy Strawberry Truffle Diaper Tote Set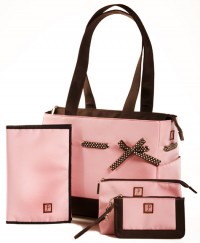 Features:
Microfiber wipeable fabric
Wipeable liner
Zipper closure
Stroller Straps
Coordinating changing pad, cosmetic bag & wristlet
Large zippered interior pocket
2 open interior pockets
2 adjustable interior bottle pockets
2 exterior side pockets
Metal feet
Dimensions: 12″h x 14″w x 6″d
Color: Pink/Brown
I originally found this at ebags.com, but had to go to another site to pull photos and found it $14 cheaper at AnnaBean.com
http://www.annabean.com/jpl-stts.html – $98.00 plus free shipping on orders over $99.00
http://www.ebags.com/kids_baby/fashion_diaper_bags/category_search/index.cfm?N=20037575 Regular $122.00 on Sale for $109.80 which ends tonight at midnight (free shipping too).
What about all of you? What would your "dream" diaper bag be if you could buy any designer diaper bag you wanted? Perhaps if you all share your suggestions, I will look them up and tell you my top choices from your selections.