We mentioned Episencial a couple of days ago in our post Actively Healthy Skincare Tips from Episencial founder, Kim Walls, MS. Today we'll tell you a bit more about the company and a couple of products from their Episencial Skincare line. Thanks goes to our PR contact for the information.
100% organic Episencial Skincare for babies and children and the Very Hungry Caterpillar Collection. Episencial is the first company to deliver clinically effective, newborn-safe products designed to support the essential immune functions of the skin. Made exclusively from all natural ingredients and loaded with organics, Episencial is leading the chemical-free charge in personal care products for kids. The Episencial skin care system offers parents a complete range of products based upon formulas relied on by leading spas and clinics for more than thirty years.
Premier all natural skincare brand Episencial is taking the skin care market by storm, offering an immune-boosting, newborn-safe skin care product that feature planet-friendly organics, solar-powered manufacturing and sustainable packaging at an affordable price. Episencial product is made exclusively from all natural ingredients , more than 50% of which are organic and chemical free. We are proud to offer a new layer to bath time, by educating and engaging the child on how to be healthy and to learn how to care for their skin. Currently, available at Whole Foods and leading retailers including Buy Buy Baby, online at drugstore.com and target.com, episencial products range from $5.99 to $14.99, well below the average prices of natural personal care products for children. Proceeds from the sale of the product benefit the company's philanthropic partner Healthy Child, Healthy World and its mission to protect children from harmful chemicals.
Celebrity moms are raving about Episencial, celebrities like Courtney Cox, Larry Birkhead and baby DaniLynn (Anna Nicole Smith's daughter) and Mary Louise Parker.
The product line includes: Playful Foaming Wash, Sweet Dreams Bubble Bath, Soothing Cream, Better Body Butter, Protective Face Balm (SPF 6), Nurturing Balm and Sunny Sunscreen (SPF 35).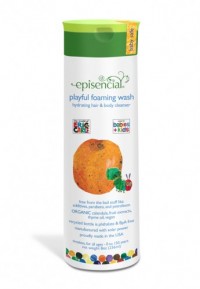 Ultra pure hydrating hair & body cleanser.
SRP: $8.99/Size: 8oz
* Won't irritate eyes or sensitive places. Rinses off fast!
* Gentle and hydrating cleanser using thyme oil and plant-based surfactants. Sulfate free!
* Fragrance free. Organic orange extract is our mild and fresh scent.
* Organic ginko biloba and calendula extract to sooth the skin.
* Organic aloe and soothing oat extract to moisturize naturally.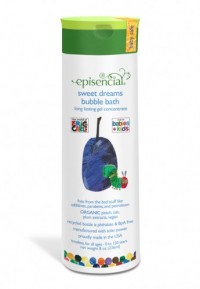 Long-lasting bubbly gel concentrate.
Size: 8oz/SRP: $8.99
* Won't irritate eyes or sensitive places.
* Enhanced bubbles from natural, sugar derived surfactants. Sulfate free!
* Organic avocado oil and soothing oat extract to hydrate skin.
* Organic ginko biloba, green tea extract, and mandarin orange.
* Organic lavender oil with plum and peach extracts help wind down for a peaceful nap or night's rest.
Check out their ingredients page, gotta love it when a company actually reveal what their products are made of and give a definition of them! http://episencial.com/ingredients/
For complete product line and additional information, please visit http://episencial.com/