The media coverage of Haiti may have dimmed in recent days, but that doesn't mean the rest of the population has forgotten about the aftermath of Haiti's earthquake disaster. Celebrities have held telethons, in the UK celebrities recorded a single, and now children and parents have the opportunity to raise money for the devastated Haiti in a way children can relate – through PLAY.
Hasbro is an example of a corporate company taking on philanthropic zeal. They have created Hasbro PLAYATHON for Haiti. Read the following excerpt for more information:

In the wake of the devastation caused by the recent earthquake in Haiti, Youth HandsOn Network and Hasbro, Inc. have joined together to create a nationwide fundraising initiative for kids – PLAYATHON for Haiti. This effort will benefit SOS Children's Villages in purchasing "pop-up" shelters for the orphaned and vulnerable children of Haiti.
When disaster strikes it is very important that children, like all people, feel empowered to make a difference in their world. The nationwide PLAYATHON for Haiti initiative gives children and families a way to put their compassion into action. In a twist on classic fundraising tools like the walk-a-thon, PLAYATHONS are group events organized around playing with toys, games or other fun activities – participants either secure a flat pledge for playing or pledges for every 15 minutes they spend playing.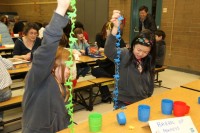 All funds raised during the PLAYATHON for Haiti initiative will benefit SOS Children's Villages, a nonprofit organization committed to the long-term care of children who can no longer grow up with their biological families. SOS Children's Villages has been operating in Haiti since 1978 and is a key part of international efforts to care for Haitian children in the aftermath of the recent disaster. In addition to providing food, medicine and clothing to Haitian children affected by the earthquake, SOS plans to immediately provide long-term "pop-up" shelters for orphans in need. 100 percent of funds raised during the PLAYATHON for Haiti will be allocated towards the purchase of these shelters which, depending on size, cost between $1,250 and $2,500. Additionally, up until March 31, 2010, the Hasbro Children's Fund will match the total amount raised through PLAYATHON for Haiti events in support of SOS Children's Villages, up to a total of $500,000.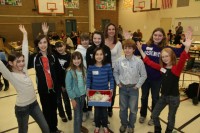 For details on how to hold your own PLAYATHON, please visit www.hasbro.com/corporate/community-relations/Playathon/Haiti.cfm