This Friday, Disney has a new movie premiering called, Alice in Wonderland in movie theaters across the country. I think younger children would find this movie a bit scary, but older ones will probably be thrilled by it, literally. It seems more riveting than I remember the old Alice in Wonderland being.
Here's what one website reported for early reviews:
Critics for the Manhattan dailies won't get to see "Alice in Wonderland" until Monday night, but there are already reviews online out of London, where Tim Burton's re-imagining with Mia Wasikowska as Alice and Johnny Depp as the Mad Hatter had its world premiere last night. Both The Times of London and The Independent give it 4 out of 5 stars, but stop well short of flat-out raves you might expect from that rating. Kate Muir in The Times calls it "spectacular" and "a 3-D epic for the next generation," but notes that "traditionalists may quibble with Burton's gothic ride through the Alice books" and her enthusiasm seems carefully qualified. Geoffrey McNab's notice in The Independent is more pointed — "a wildly inventive film straightjacketed in conventional narrative..that grows increasingly one-dimensional and simple-minded." Ouch.
Thought I would share the trailer in case you haven't seen it yet:
Just in time for the movie premiere, eDressMe.com, a top online retailer of dresses for all occasions, will be selling the Sue Wong "Alice in Wonderland" collection of dresses, using antique lace and colors inspired by the movie's characters: Alice, the Red Queen, the White Queen, the White Rabbit and the talking flower garden.
Pictured below are some of the dresses from the Sue Wong collection for Walt Disney Signature. The styles include baby-doll, empire waist and column dresses. These exquisite dresses are not cheap, the collection retails for $329 to $609 and are available at www.eDressMe.com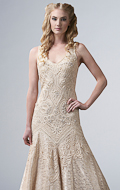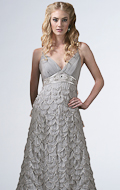 Resources:
http://www.nypost.com/p/blogs/movies/mixed_early_reviews_for_alice_in_WiR6CkwV6S92vObswEmBJL