I don't know how you grew up, but my parents frequently had soda pop in the refrigerator. However, it was a rare treat that we ever drank pop. I am very grateful to my parents for that because to this day, I am not a pop drinker. On occasion, I will drink a sprite or one of its competitor's counterparts. I don't even remember there being any vending machines in my high school either, and I know for sure that our elementary school didn't have any. So I applaud Hint Water as they kick off their "Moms Against Sugar Water" Campaign urging schools to eliminate sugary beverages.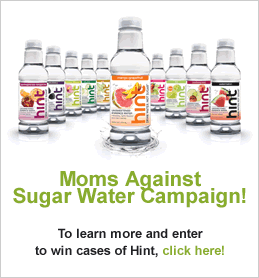 In line with First Lady Michelle Obama's childhood obesity initiative, HINT Water (www.drinkhint.com) is launching their new "Moms Against Sugar Water" campaign, urging both schools and parents to eliminate sugary beverages. The brand is already working with schools in New York and California and is urging moms to voice their concerns about the healthy options in their children's schools. HINT is an all-natural, 0 calorie, 0 sugar essence water with a "hint" of flavor created by husband and wife team Theo and Kara Goldin in 2005 when they couldn't find any healthy beverage options for their four kids.
"'Drink Water Not Sugar' is the company mantra which reinforces the #1 nutrition rule, 'Don't Drink Your Calories,'" says Kara Goldin, CEO of HINT Inc. "The 'Moms Against Sugar Water' campaign is our next big bang encouraging healthier options for kids and better nutrition in schools. Now with government funded initiatives like Michelle Obama's "Let's Move" program, campaigns like ours will become even more significant."
Whether your child can't go a minute without hitting the vending machine or refuses to drink anything but soda, HINT wants to hear about it! By submitting a wall post on HINT's Facebook Fan page (www.facebook.com/drinkhint) moms will automatically be entered for the chance to win a year supply of HINT water and a donation of 100 cases to their child's school. HINT's team of celebrity nutritionists and fitness trainers will then determine the grand prize winner, "the #1 mom against sugar water". For official rules and more information check out HINT's Web site at www.drinkhint.com.