Yesterday celebrity mom, Valerie Bertinelli, was on the View in as a co-host. She is also approaching her third Anniversary on March 8th as a client of Jenny Craig. Bertinelli has lost 40lbs, and kept it off. She achieved her goal in December 2007, which means December 2010 will also mark her 3rd Anniversary of keeping those pounds off. In this post you can watch a clip of The View and some words of wisdom from Valerie Bertinelli about the Jenny Craig program.
Jenny Craig Success Story Valerie Bertinelli, Approaching Three-Year Anniversary on the Jenny Craig Program, Offers Words of Wisdom for Current Clients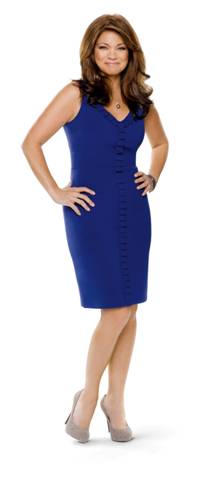 Jenny Craig veteran and weight loss success story Valerie Bertinelli will soon celebrate her three-year anniversary on the Jenny Craig Weight Management Program. While half the battle is losing the weight; the other half is learning how to keep it off. Bertinelli reached her goal of losing 40 pounds with Jenny Craig in December of 2007 and today she struts a toned physique and rocking bikini body!*
Through the Jenny Craig Weight Management Program, Valerie was given access to a variety of tools that helped her reach her goal. The weekly support from her Jenny Craig consultant combined with portion-controlled meals to keep her calorie intake in check allowed her to be a true weight loss success story and inspiration to people everywhere looking to lose weight. Valerie recently shared her advice for current Jenny Craig clients:
"For clients starting out on Jenny, these are my top three tips:
* "Find a consultant who gets you. Kathy was invaluable to me. She understood how my brain worked, she was patient and she pushed me whenever I needed a nudge. In a nice way though, huh, Kath?
* "Keep a journal. I didn't really like this at first but I found that it was too easy to slip into old habits at the beginning. If I wrote down what I was thinking and feeling, it gave me a chance to think a beat or two before I made a decision I'd regret.
* "Surround yourself with people who care about/know what you're doing. I used to diet in secret. This was a bad idea for me because then I wasn't accountable to anyone but myself, (who I was so used to letting down) so one more time didn't matter."
"For clients who have reached halfway on Jenny, or are about to…
* "Re-evaluate your goal. All I cared about was the number on the scale at the beginning. And then I found that other things were motivating me to lose weight like my health or being able to run farther than one block. Your body changes as you lose weight and other things do, too, so listen to what makes you tick and what will keep making you tick.
* "Have a plan. Halfway means some meals on your own. Plan in advance what you'll be ordering at a restaurant or on a plane or a party. Kathy and I used to do only meal planning at some of my consultations where we'd look the restaurant online (they also have a Dining Out Guide with a ton of restaurant menus listed) and we'd "pretend order" in advance. This was great because then I wouldn't have to think about it."
"And for clients who are on Jenny Craig's maintenance program …
* "Come over to my house and let's hug it out together. Seriously, changing your life isn't easy! Lots of support and reminding yourself of all the things that are so much better in your life now is key."
*Clients following the Jenny Craig program, on average, lose 1-2 pounds per week.
Other Resources:
http://theview.abc.go.com/video/viewtube-valerie-bertinelli