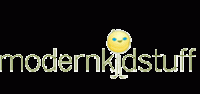 How often have you put a bib on your child, only to have the sleeves of their outfit get dirty? Or food on the collar? I think all of us would probably raise our hands in response to that question. Isn't it infuriating? Especially when it's a really nice outfit you are trying to protect in the first place! Well, in an email that I got awhile ago there was a feature done on what they called the "Get Messy Bib". I have to say that I am impressed by what I see, but I cannot tell you much more about it other than what Modern Kid Stuff lists on their website since I haven't got around to ordering one to try…might be a good idea for my daughter's birthday next month and I may just order one for my son too, if they have blue in stock. Then I'll have both colors for this new little one gestating. (We never find out the sex of our babies. Amazing, I know, but we like to be surprised.)
Ok, so here's what Modern Kids Stuff says,
This modern-design bib will meet your child's needs from baby learning to self-feed, to toddler mealtimes, to toddler art projects. Made of 100% nylon that is covered in groovy blue dots, this bib features a smart-design pocket that catches spills. Machine washable. Imported.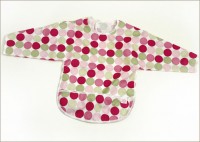 The blue polka dot bib is out of stock. 🙁 However, the pink polka dot one appears to be in stock at the time of the writing of this post. The "Get Messy Bib" retails for $13.50.
Modern Kid Stuff also have other cute bibs as well. Plus, FREE SHIPPING! On Orders Over $50.
Happy Saturday, everyone!