Baking and cooking with our children can not only be a fun activity to do together, but it can certainly knit our hearts together with them to, not to mention teaching them valuable skills for the future. POURfect seems to have come up with solutions to the minor mishaps that occur when we have our kids work in the kitchen with us. Read more about POURfect….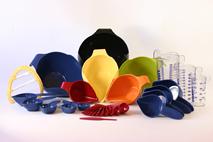 Cooking together can be a delicious learning experience for children and parents, however sometimes it can lead to a messy kitchen. POURfect Kitchen tools smartly designed features allow for easy grip as children with small hands can use their palm and thumb to grasp the bowl. Made in the USA, POURfect products are designed for bakers and chefs of all ages to make food
preparation easier, more accurate, and tidier for everyone.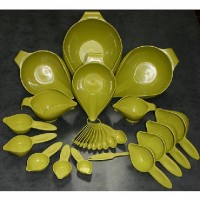 POURfect's Kitchen Tools
* Extremely ergonomic and light-weight making it easier to grip, pour, and maintain control.
* Features expansive easy to read measurements in English, Metric and Braille.
* Pivot feature allows for more control when pouring eliminating overspill.
* Have a rubber ring on the bottom for added stability while mixing ingredients.
* Available in a variety of colors to complement any kitchen's décor and KitchenAid's small electrics. Available in up to 38 colors including: Empire Red, Majestic Yellow, Tangerine, Pear, Blue Willow, Caviar, and traditional White.
* Bowls, measuring spoons, measuring cups, beaker set, scrap-a-bowl
* Prices range from $12.00-$40.00 for the sets.
* Dishwasher and microwave safe.
* Made in the USA.
Visit www.POURfectBowl.com