This April Fools Day, we wanted to share with you Honest Tea's April Fool's special, as they don't want you to play the fool with your choice in beverages. It is great when companies desire to do things "right" in terms of building a company that uses sustainable practices and in producing organic products. I have never heard of Honest Tea, but liked what I saw when I checked out their website and our local grocer actually carries it! So I am looking forward to trying some really soon. Now onto the April Fool's special offer…
For today only, visit Honest Tea's website for a "Buy 1 Get 1 Free" coupon, good on any Honest Tea or Honest Ade product. All of the Honest Teas and HonestAdes are USDA Organic Certified, high in antioxidants and low in calories, so you won't feel foolish drinking them. With 5 varieties – including new Mango Green Tea – Â we'll bet you'll have a tough time choosing a favorite! Please note: Glass bottles are not included with this coupon. Just the plastic bottles.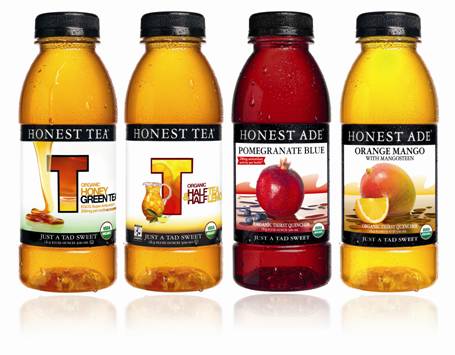 Honest Tea is packaged in PET bottles that are fully recyclable (PETE 1), Phthalates free, don't leach, and require less energy to produce and ship. Additionally, they are not made with the chemical Bisphenol A (BPA). The same is true for the Honest Kids' drink pouches. Read more…
While the coupon can only be downloaded today, it can be redeemed through April – no joke!
So visit www.honesttea.com/aprilfools today!
About Honest Beverages
Honest Beverages is a socially conscious, fair trade company with a charity outreach to the following two organizations:
"Community Green is marketed in partnership with City Year, an AmeriCorps program uniting diverse 17-24 year olds with communities in need…."
"Honest Tea's First Nation Peppermint embodies the company's commitment to creating innovative business partnerships with economically disadvantaged communities…"
Read more about their charity work here: http://www.honesttea.com/mission/philosophy/causes/

Or simply visit www.HonestTea.com