This past week we shared a story about Donna Simpson and her quest to become the fattest woman in the world. We received an update to her quest and she is now weighing in at 700 lbs of the 1000 lb goal she is seeking.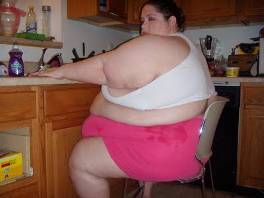 I find this story incredibly sad and am hoping the interview questions I sent to both Dr. Siegal and Ms. Simpson will be responded to soon. You have to wonder at a person's reasoning behind such a drastic weight goal and what she has to gain from completing it – besides the normal media hype and attention, which she is obviously accomplishing because look, we are reporting on it!
Dr. Siegal, of the CookieDiet.com is still trying to pay her to stop – with his own money – but I have yet to hear if she has officially accepted his offer or not. I don't know about you, but I am eager to find out. She has a family to think about and be here for, what if she dies in the process of becoming the "fattest woman in the world"? That's not a risk most people would be eager to embrace is it?
I don't think she deserves to die because of her choices, I think she needs help to stop the "madness". I also commend Dr. Siegal's offer to save her from herself.
More info:
https://www.thefashionablebambino.com/2010/03/30/world-renowned-weight-loss-expert-to-pay-50000-to-put-a-stop-to-fattest-woman-in-the-world-fat-madness
http://www.newswire.ca/en/releases/archive/March2010/26/c5402.html