When you hear Medela, what do you automatically think of? I think of breast pumps, after all that is the product they have made their brand. I feel like I have been out of the loop even though I have been nursing and pregnant for pretty much the last 14 years…Because last week a friend gave me a brand new Medela Bamboo Nursing Camisole. My friend couldn't use it and passed them along to me. I didn't even know that Medela had intimate apparel products, but am very thankful for my friend's generosity!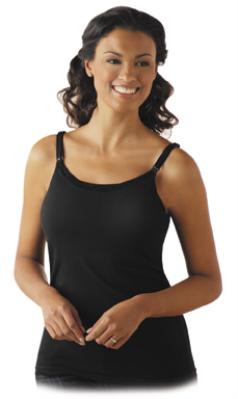 My nursing camisole is black, but it also comes in white. It is form fitting, as it is 67% Rayon from Bamboo, so it is made mostly out of eco friendly material. Then the rest of the materials are: 28% Cotton, 5% Spandex and what they call exclusive trim, which is a fancy way of saying it has a lacy trim across the chest. The chest area fits snuggly like a bra and has nursing openings that don't get in the way and fit securely around the breast.
The clasps are very easy to open, but closing them was more difficult at first because there seemed to be a trick to pressing down on them to get them to snap back in place. One clasp seemed harder to snap back into place than the other. I finally managed it after a couple of tries though.
I really like this camisole and it fits me even at 20+ weeks pregnant! It is comfy, eco friendly, washes up nicely and a pretty nice addition to my nursing wear/maternity wear.
Medela doesn't actually sell this nursing camisole on their website, you have to visit their retailer page to find out which retailer carries it. Each retailer may not carry every Medela product either. I did find that Target Online carries the camisole, but only in black and it retails for $34.99. Wow, and I got it free. Thank you, friend!