When we think of school lunches, many of us picture a brown bag containing a paper napkin, a sandwich on store-bought bread in a plastic baggy, a box of juice or milk, and perhaps a piece of fruit and a plastic-wrapped cake or cookie.
What we probably don't picture are landfills heaped with non-biodegradable plastic packaging and brown paper bags that were not recycled. Let's take a new look at the portable kids' lunch and find ways to make it more eco-friendly and less wasteful.
1. Use a lunch box not bag.
Not only is a reusable lunchbox or insulated bag more environmentally friendly, but it provides a convenient way for our children to bring their reuseable containers and silverware home.
2. Reusable containers.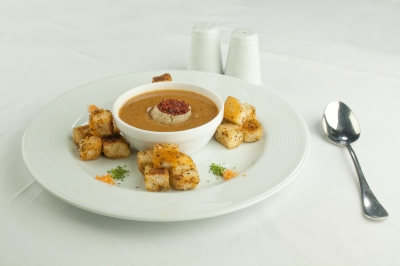 Image: ahmet guler / FreeDigitalPhotos.net
Remember the thermos you used as a child? Filling a thermos for your child with a cold drink is less wasteful than juice boxes, bottles of water, cartons of milk, or other convenience-packaged beverages. Eco-friendly, refillable stainless steel or hard plastic water or are another great option for your children's lunch drinks. Depending upon your child's age and competence in a handling glass jar, glass could be another choice.
A thermos is good for hot or cold foods, like chopped fruit, potato salad, or green salad. Warm food suggestions are organic pasta, soup, or some of those wonderful dinner-leftovers made out of locally grown produce.
3. Cloth napkins.
Cloth napkins are not expensive and come in a wide range of designs and colors. Children love to make their own choices, so letting them choose their own napkin to take in their lunchbox will make them a part of becoming more green. Choose a cloth napkin that is made with a washable fabric, so it can be washed with your regular laundry.
4. Do away with plastic straws and flatware.
Straws are really not necessary, even if they are fun, especially if you are using a refillable water bottle. If a straw is important, choose a eco-friendly bottle with a built-in straw. Use your old silverware if you are worried about the children losing them or pick up a cheap set just for school lunches. Since you'll be packing your kids' lunch in a reusable lunch bag, it's a simple matter of learning a new habit for your child to put the utensils back in the bag after eating and bring them home to be washed.
5. Home-made organic food.
Remember the store-bought bread mentioned in the beginning? It undoubtedly came in a plastic bag or packaging. Making your own bread is not only healthier – it's cheaper and saves on throw-away packaging. The same goes for the meals you pack. If you have to open a can or open a package to prepare their lunch, that's one more thing you will be throwing away. Just use the organically grown produce you buy, wash it and pack it for your child's lunch.
Store-bought cakes and cookies, canned pasta or soup, and bags of chips are considered waste-producing items. If you have the time, you can easily make yourself or just not use at all.
Image: Maggie Smith / FreeDigitalPhotos.net
How do you pack this old lunch stand-by without plastic baggies? There are all sorts of reusable containers available that are just right for a sandwich. Flat containers with tight covers in hard plastic or glass are a great solution. Again, caution is needed when allowing a child to carry glass to and from school. There are plenty of eco-friendly containers available. They are not only washable, reusable, but they also keep the sandwich from getting squished.
Lunch time does not have to be waste time! These tips should help you pack a more environmentally friendly lunch for your kids.