Autism is a "spectrum disorder" and is defined by certain behaviors exhibited in individuals affected by this disorder. It varies in degrees and from person to person suffering from the affects of autism. There is no "one size fits all" in a spectrum disorder, thus the name "spectrum".
In December 2009, according to the Centers for Disease Control and Prevention in their ADDM autism prevalence report, autism had risen to 1 in every 110 births in the United States and almost 1 in 70 boys. That is high!
With the rise in autism among the USA and around the world, advocates desire to educate and create an awareness of this complex disability. World Autism Awareness Day was on April 2nd and there was an event held in New York City on April 1st day to launch Autism Awareness Month.
On Thursday, April 1, a day prior to World Autism Awareness Day (WAAD), executives and guests of Autism Speaks, the world's largest autism science and advocacy organization, will visit the New York Stock Exchange to celebrate WAAD and Autism Awareness Month. The organization will also mark the launch of the inaugural Light it Up Blue campaign, a global initiative taking place the evening of April 1st, where iconic landmarks across North America and the world, including NYSE Euronext markets around the globe, will light up in blue to raise awareness for autism.

For the third consecutive year, Autism Speaks Co-founders Suzanne and Bob Wright will ring The Opening BellSM at the New York Stock Exchange, joined by Duncan Niederauer, CEO of NYSE Euronext, and special guests, to highlight the day. Additionally, NYSE Euronext markets in Amsterdam, Brussels, Lisbon and Paris will open or close the trading day on April 1 with executives from world autism organizations in recognition of World Autism Awareness Day.
Here's the opening bell photo. The bell ringer was Liam Niederauer, son of NYSE Euronext CEO Duncan Niederauer. (Liam has autism.) The co-founders of Autism Speaks Suzanne and Bob Wright were also on the podium with board members and parents of children with autism: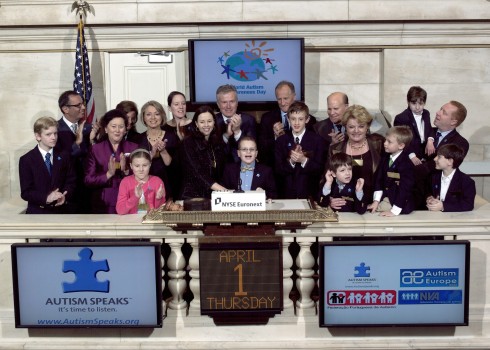 About the Light It Up Blue Campaign
On the evening of April 1, Autism Speaks marked the launch of its inaugural Light It Up Blue campaign, a unique global initiative to help raise awareness on autism as a growing public health crisis in support of World Autism Awareness Day on April 2 and Autism Awareness Month. Iconic landmarks around the globe including the Empire State Building in New York City and Willis Tower in Chicago, along with the CN Tower in Toronto and Kingdom Tower in Saudi Arabia as well as airports, bridges, museums, concert halls, restaurants, and retail stores, are among more than 100 structures in over 16 U.S. cities and nine countries around the world that
were lit up in bright blue on the evening of April 1 the first night of Autism Awareness Month and the eve of World Autism Awareness Day (WAAD). (Source: Autism Speaks)
About Autism Speaks
Autism Speaks is North America's largest autism science and advocacy organization. Since its inception only five short years ago, Autism Speaks has made enormous strides, committing over $142.5 million to research and developing innovative new resources for families through 2014. The organization is dedicated to funding research into the causes, prevention, treatments and a cure for autism; increasing awareness of autism spectrum disorders; and advocating for the needs of individuals with autism and their families. In addition to funding research, Autism Speaks also supports the Autism Treatment Network, Autism Genetic Resource Exchange and several other scientific and clinical programs. Notable awareness initiatives include the establishment of the annual United Nations-sanctioned World Autism Awareness Day on April 2 and an award-winning Learn the Signs campaign with the Ad Council which has received over $210 million in donated media. Autism Speaks' family resources include the Autism Video Glossary, a 100 Day Kit for newly-diagnosed families, a School Community Tool Kit, a community grant program and much more. Autism Speaks has played a critical role in securing federal legislation to advance the government's response to autism, and has successfully advocated for insurance reform to cover behavioral treatments. Each year Walk Now for Autism Speaks events are held in more than 80 cities across North America. To learn more about Autism Speaks, please visit www.autismspeaks.org. (Source: Autism Speaks)

Resources:

http://www.autism-society.org/site/
http://exchanges.nyse.com/archives/2008/04/autism_awareness.php
http://www.autism-society.org/site/PageServer?pagename=research_awareness
http://www.pbs.org/independentlens/horse-boy/