Fashionable Media Review Policy: The featured product for this review was provided to me, at no cost, by the manufacturer or representing PR agency for the sole purpose of product testing. Opinions expressed are my own and are not influenced by monetary compensation.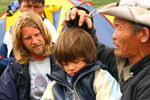 Horse Boy is a documentary about two parents and their son, Rowan, who has autism. Rupert Isaacson, Rowan's father, is a human rights worker, author and former professional horse trainer, and his mother Kristin Neff, is a psychology professor. They sought all the normal medical care, but these therapies had little affect on Rowan's behavior. In their struggle to make sense of their son's disorder, they discover an interesting connection between Rowan and horses.
It was this connection with a neighbor's horse, which Rowan's father could certainly relate to as a former horse trainer, that made Mr. Isaacson wonder if he could combine horses with healing. He delved into researching the origins of horses and where they were first domesticated. His research led him to Mongolia, where shamanism is their religion. Shamanism is known for its healing. This led Rowan's parents to decide to make a trip to Mongolia in search of healing Rowan's autism.
The movie follows the Isaacson's in their journey to Mongolia. Some of it is very raw footage (bathroom trips, purification "bath"), but it is a documentary about a family's personal journey. They do cover up body parts with a blurry spot. I just felt I had to disclose this as I would want to know if someone were recommending it to me for the first time. However, you will have to watch the movie to find out if their trip overseas leads them to discovery or disappointment!

Watch Horse Boy on PBS!

On Tuesday, May 11, the PBS series INDEPENDENT LENS presents The Horse Boy, Michel Orion Scott's remarkable new documentary about Rupert Isaacson and Kristina Neff's unorthodox journey with their autistic son and the miracle they find through horses — first on their Texas farm and then in the outer reaches of Mongolia. Rupert Isaacson, who has also written a book about the experience and now runs a learning center, The Horse Boy Foundation.

Resources:
http://www.pbs.org/independentlens/horse-boy/