Fashionable Media Review Policy: The featured product for this review was provided to me, at no cost, by the manufacturer or representing PR agency for the sole purpose of product testing. Opinions expressed are my own and are not influenced by monetary compensation.
The Chronic Tonic Hair Care Solutions includes sulfate & paraben-free hair care products. Nor were they tested on animals. So these products are partially environmentally friendly. They did a comparable job in cleaning my hair, leaving it soft and shiny. So far I haven't seen any noticeable differences yet, but perhaps as time goes on some will appear over long term use.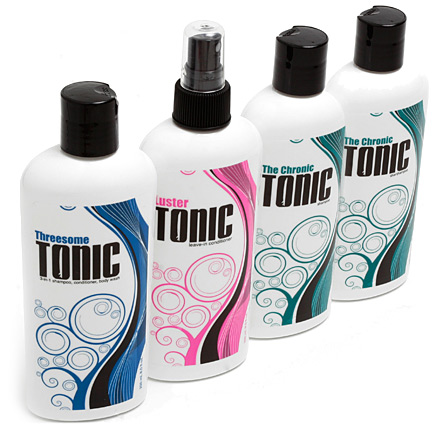 Two is Better than One: The Chronic Tonic
The Chronic Tonic Shampoo & Conditioner system are two separate products used together during hair washing. Sunflower seed extract moisturizes and inhibits the absorption of UVA/UVB. Price: $14 each
Shampoo Ingredients: Aqua, Cocamidopropyl Betaine, Sodium Methyl Cocoyl Taurate, Sodium Cocyl Isettthionate, Sodium Chloride, PEG-3 Distearate, Phenoxyethanol, Potassium Sorbate, Guar Hydropropyltrimonium Chloride, Citric Acid, Disodium, Methylchloroisthianzolinone, Tocopheryl Acetate, Butylene Glycol, Sunflower Seed Extract, Hydrolyzed Protein, Absrobic Acid and Panthenol.
Conditioner Ingredients: Aqua, Cetearyl Alcohol, Centromium Chloride, Dimethicone, Silicone, PEG-33 Dimethicone PEG-14 Phenoxyethanol, Ethylhexylglycerin Panthenol, Sweet Almond Oil, Vegetable Oil, Isoporoyl Palmitate, Citric Acid, Bezophenone – 4, Disodium EDTA, Ritinyl Palmitate, Butylene Glycol, Sunflower See Extract, Polyamide – 2, Absrobic Acid and Tocopheryl Acetate.
Luster Tonic
Luster Tonic is a leave-in conditioning mist with powerful UV-inhibitors and natural botanical oils designed to protect hair from the damaging effects of sun, salt, wind and chlorine. Tonic's unique cream-to-mist technology can double as a luxurious moisturizer that re-hydrates. It contains aloe vera, grape seed oil and wheat protein, for added volume and protection. Luster Tonic is the answer to split ends, breakage and dry, tangled hair. Price: $14
Ingredients: Water, Propylene Glycol, Behentrimonium Methosulfate, Cetearyl Alcohol, Cyclomethicone, Amodimethicone, Centrimonium Chloride, Trideceth-12, Idohexadecane, Aloe Barbadensis Leaf Juice, Phenoxyethanol, Ethylhexlglycerin, Citric Acid, Potassium Sorbate, KMDM Hydantoin, Hydrolyzed Silk, Hydrolyzed Wheat Protein.
His & Hers: Threesome Tonic
Threesome Tonic is an innovative all-in-one unisex solution for the active guy or girl looking to get rid of a little extra baggage: a high
performance shampoo, conditioner and body wash in one convenient bottle. Infused with natural peppermint and tea tree oils to create nice smelling hair. Threesome Tonic replenishes moisture to tired hair and skin worn by the elements. Price: $12
Ingredients: Ingredients: Aqua, Sodium C14-16 Olefin, Cocamidopropyl Betaine, Ammononium Lauryl, Cocamide DEA, Hydrogenated Glyceryl Palmate, Amodimethicone, Trideceth-12, Centrimonium Chloride, Phenoxyethanol, Ethylhexylglycerin, Glycol Stearate, Castor Oil, PEG-15 Distearate, Potassium Sorbate, Menthol, Peppermint Oil, Citric Acid, Tea Tree Oil, Hydrolyzed Silk.
About Tonic
Tonic hair care provides a line of quality, environmentally-friendly products designed to protect hair from nature's harsh elements. Developed in 2007 by avid surfer Lauren Otonicar, Tonic products cater not only to those who love the outdoors, but to the environment as well. Each product is never tested on animals, and free of parabens and sulfate. For more
information on Tonic hair products, please visit www.TonicShop.com
Resources:
Check out ingredients of personal care products to see what their toxicity is
http://www.cosmeticsdatabase.com
http://articles.mercola.com/sites/articles/archive/2010/04/24/epstein-interview.aspx