Luna and Stella Jewelry is another special gift to consider for Mom. But since I am rather slow in getting things posted in time…… Please note, if you are interested in anything at Luna & Stella – Order by May 2nd (TODAY! Sorry!) for Mother's Day. Luna and Stella offer birthstone rings and necklaces in Sterling Silver, Gold Vermeil, 14K White Gold, Solid 14k Yellow Gold and 14K Plate Gold. Each piece of jewelry doesn't come in all of those options, so be sure to check the descriptions to see if it is available in your choice of precious metal.
I found it very interesting to learn something about birthstones that I never knew:
The idea that twelve gemstones represent the twelve months of the year may find its origin in biblical times and the twelve stones on the breastplate of Aaron, the first high priest. Each stone was believed to carry special mystical powers and over time became associated with the months of the year and the signs of the zodiac. Medieval Europeans, for example, regularly associated a gemstone with an individual's month of birth. And world cultures including Roman, Spanish, Italian, Russian, Arabic, Jewish, Polish and Ayurvedic in India have generated different birthstone lists. In 1912 the National Jeweler's Association adopted the list that is most common today. Though birthstones are a relatively recent tradition in the United States, each one is imbued with centuries of legend and lore.
For more information about each of the twelve birthstones, please visit the about birthstone page at www.lunaandstella.com
Here are some examples of Luna and Stella's Jewelry:

Moon & Stars Birthstone Necklace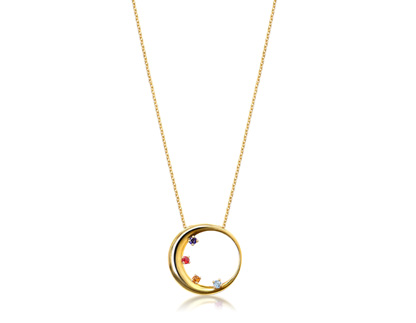 Stacking Birthstone Eternity Rings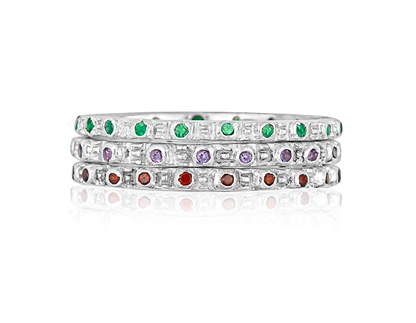 Heart Birthstone Charm Necklace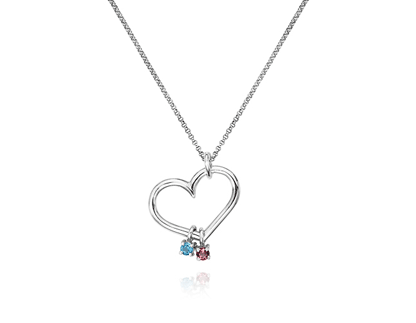 Crescent Moon Stacking Birthstone Rings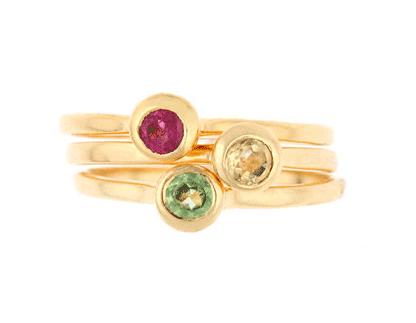 Again the website is
www.lunaandstella.com/ and each of the above jewelry titles in red will take you directly to that product.